Saturday, October 8th, 2011
Bruns hits Siefring for game-winning touchdown
Flyers and Cavaliers tied for top spot in MAC
By Gary R. Rasberry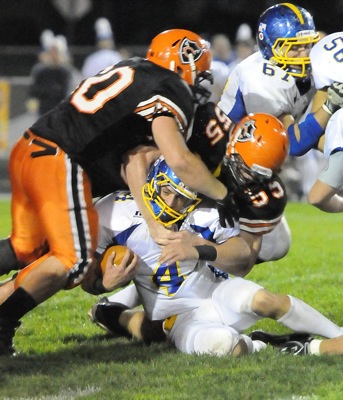 COLDWATER - Just when Coldwater needed a spark on offense, Austin Bruns stepped up.
Struggling most of the night against the Delphos St. John's defense, the Cavaliers' junior quarterback engineered a nine-play drive and threw a touchdown pass to Caleb Siefring with 1:13 left in the game to lead Coldwater to a 17-14 win over the Blue Jays in a battle of Midwest Athletic Conference unbeatens in a Great American Rivalry Series game.
Coldwater (6-1, 5-0 MAC) shares first place in the MAC standings with its next opponent, Marion Local (6-1, 5-0 MAC) while the Blue Jays' four-game winning streak is snapped.
With both teams boasting a solid defense, the offenses struggled for the majority of the game, with Coldwater getting its early points off turnovers and the Blue Jays (4-3, 4-1 MAC) doing the same later.
"I said all week, the defenses were really stout," said Coldwater's coach Chip Otten. "The offenses are still trying to find their ways. They're a power-run team and we're a big-play team. They took the big plays away and dropped eight (players into coverage). We thought we could run the ball better against their front three, but they do a great job and we couldn't stay on our blocks long enough."
The Cavaliers picked off Blue Jays' quarterback Mark Boggs twice in the first 8 1/2 minutes. Coldwater turned the two turnovers into 10 points as Bruns hit Josh Huber with a 53-yard scoring pass while Troy Otten added a 42-yard field goal. A Bruns interception set up the Blue Jays' first score before the first half ended on a Jordan Bergfeld one-yard run.
"You don't spot a good team 10 points," said St. John's coach Todd Schulte. "We couldn't have started a game any worse. That's where we've been. We don't play until we have our backs against the wall."
The second Blue Jays' score was set up by a rare bad punt from the Grand Lake area's top punter Kyle Bergfeld. St. John's started its drive on the Cavaliers' 33-yard line, and four plays later, Bergfeld scored on a 24-yard run with 3:19 left before halftime with St. John's on top 14-10.
"Been that way all year. We've got great field position from our defense," said Schulte. "... If we get it around the 20 (yard line), we've got a chance."
Coldwater struggled on its next two possessions as the Blue Jays used a new defensive formation that featured three down linemen with the rest for the St. John's defenders watching for the pass. Going into the last Cavaliers' drive, Bruns was just 5-of-16 for 97 yards.
With 3:25 to play in the game, the Cavaliers took over at their own 35-yard line. After an incomplete pass, Bruns found Jordan Chapin for eight yards before rushing for seven yards and a first down. Bruns found Huber for six yards before an 11-yard strike to Siefring gave the Cavs a first down at the Blue Jays' 33-yard line.
Bruns then found Huber open on two straight passes as the Cavaliers advanced to Blue Jays' 18-yard line.
"(St. John's) had the three down linemen. Since we were in the two-minute (drill) with two guys on each side, if you think about it, every guy is double-teamed," said Bruns, who was 6-of-8 for 58 yards on the winning drive. "... They had their two-deep safeties back, so when I got my pre-snap read, I knew we couldn't go with the long ball right away. We had to set it up with the short passes to get them to bite. We just kept chipping away."
Bruns then found Siefring open in the end zone on the next play for a touchdown with 1:13 left in the game and Otten's PAT kick made it 17-14 in favor of the Cavaliers.
"We just put it in this week," said Siefring of the scoring pass. "It was a special play for Delphos. We thought we could get them on it. I just came out of the backfield and was able to catch the ball. Good protection. Good throw."
"I thank Austin for throwing me the ball (after) I dropped that one open pass (earlier in the game). It was a team effort," added Siefring.
After Otten boomed the ensuing kickoff into the end zone for a touchback, St. John's moved the ball to midfield before Boggs was picked off for the third time as Siefring snagged his second interception of the game to seal the win for the Cavs.
"I told them at halftime, 'This is why you play, fellas. This is why you lift all those weights, It's not to beat someone 60-0. It's in a great game against a team (that) I could see winning state again in Division VI,'" said Otten. "The whole atmosphere was awesome."
Siefring, who had three catches for 58 yards to go along with his two interceptions, was named the Great American Rivalry Series' Most Valuable Player. Huber had eight catches for 82 yards.
The Blue Jays' Tyler Jettinghoff rushed for 56 yards on 19 carries and Bergfeld added 48 yards on the ground.
Before the game, the United States Marine Corps and Great American Rivalry Series presented a $250 scholarship to the Cavaliers' Alex Pax and to the Blue Jays' Dylan Krendl.
The Cavaliers travel to Maria Stein to face the Flyers next Friday while St. John's heads back to Stadium Park in Delphos to face Fort Recovery.