Wednesday, November 2nd, 2011
Two injured in crash
By Margie Wuebker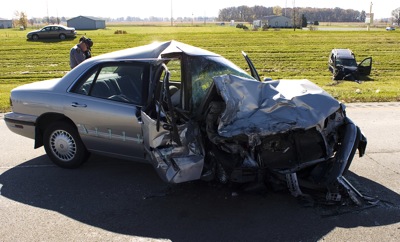 An elderly Mercer County man was treated and then released following an accident late Tuesday morning when he reportedly drove his car the wrong way on a divided highway east of Celina.
The mishap occurred at 11:51 a.m. on state Route 29 between Havemann and Staeger roads.
Norbert R. Kramer, 85, of Chickasaw, was driving eastbound in the westbound lane of the highway when his 1997 Buick LeSabre collided head-on with a westbound 2005 Pontiac Montana driven by Donald L. Johnson, 68, of Dayton. Skid marks at the scene indicated Johnson attempted to avoid a collision by applying the brakes and swerving to the left.
Following impact, the Kramer car spun around and came to rest in the middle of the westbound lanes. Johnson's vehicle also spun and came to rest in the median.
Both drivers were taken by ambulances to Mercer County Community Hospital in Coldwater. Johnson remains hospitalized in stable condition, according to a nursing supervisor.
"The crash occurred right on the curve," Celina Police Chief Dave Slusser said. "Most drivers are looking ahead toward the traffic lights at that point. The last thing you expect to see is a vehicle coming at you on a divided highway."
Both heavily damaged vehicles were towed from the scene.
Slusser said officers continue to review the accident report, and he expects charges to be filed.