Monday, November 7th, 2011
Churches feed hungry, starting with voters
By Margie Wuebker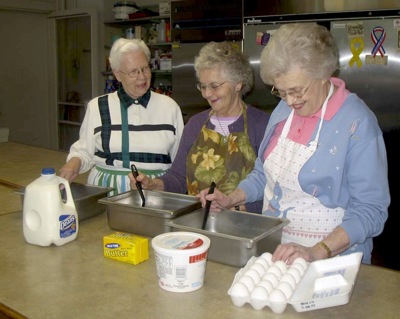 Deciding the fate of a heavily contested council race or a confusing statewide issue can be a daunting task.
Members at two area churches hope the experience triggers a need for sustenance - the kind offered at their Election Day dinners.
St. Paul United Methodist Church, 119 E. Fulton St., Celina, will provide meals 11 a.m.-1 p.m. Tuesday in a tradition that dates back to 1919. No presale tickets are needed for comfort foods such as chicken and dressing or ham loaf and mashed potatoes. Proceeds benefit church and mission projects.
Meanwhile, the congregation at Coldwater United Methodist Church will be serving spaghetti with homemade sauce and meatballs. All 300 tickets for the event, which began in the 1950s, have been sold. Proceeds benefit Operation Christmas.
At St. Paul's, organizers expect 400-500 people during lunch. Dortha Baer's "looseleaf bible" holds historical data about the meal and information about whom to call and where volunteers are needed. Assignments range from mashed potato makers to plate scrapers.
The first meal in 1919 likely featured the popular chicken dish, but 88-year-old Baer was too young to participate back then. Church records indicate diners paid 35 cents per plate.
"We no longer peel potatoes or make all the noodles on the premises," Baer said. "We are not as young as we used to be, and there have been some needed changes along the way."
Members still cook chickens and pick the meat from the bones for the baked chicken dish. The broth is used in the dressing. Ham loaf was added in the 1970s.
"A lot of people cannot decide what they want," head cook Carolyn Leffler said. "They ask for half ham loaf and half chicken and dressing, which is not a problem."
Some diners come early to visit the country store in the adjacent education wing. Congregation members contribute crafts, baked goods, candy, produce and other assorted items.
"We used to hold a bazaar," Baer said. "The church women met every week to make items. I recall putting together Advent calendars by the dozens the year we earmarked money for a church organ. We now rely on donated items and that involves a lot less work."
The Coldwater congregation once alternated between preparing chicken and turkey dinners for election day meals before switching to soup suppers in the 1960s.
Longtime members Marilyn Darr and Betty Woolwine were not involved when the changes occurred.
"We settled on spaghetti in 1974," Darr said. "The whole congregation gets involved."
Members gathered at the church on West North Street on Saturday to roll and bake 725 meatballs. The secret to the homemade sauce is allowing it to simmer slowly in electric roasters before serving.
"Tickets sell out pretty fast because people know the quality of the meal," Woolwine said.
Each family is asked to contribute two homemade pies for the meal.
"We specify homemade because that is what people have come to expect," Darr said. "Anybody can buy a pie, but it takes talent and love to create one from scratch."