Tuesday, November 8th, 2011
St. Henry's seniors carrying on the tradition
By Gary R. Rasberry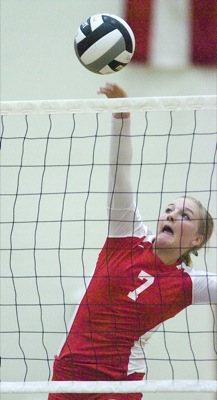 ST. HENRY - The last time St. Henry celebrated a state volleyball title on the floor of the Nutter Center, the five current seniors were somewhere around the facility cheering on the Redskins, either in the stands or on the floor.
Now, nearly seven years after the Redskins' program won its sixth state title, those five special St. Henry seniors will get a chance to add to the program's legacy, with a state semifinal matchup on Friday at approximately 6 p.m. against Sycamore Mohawk.
For senior setter/hitter Abby Brunswick, she remembers the last St. Henry state title well, serving as the manager for Lori Schwieterman's squad and getting a chance to watch the game and celebrate the Redskins' win.
"The atmosphere was so cool," said Brunswick. "Being there was just cool."
Several of the current Redskins' standouts had sisters or cousins that played for St. Henry over the years and that success was not lost on the youngsters.
"Absolutely. Pretty much all my sisters played volleyball, and they always went far when they played," said St. Henry's senior middle-hitter Michelle Bruns. "I just wanted to follow in their footsteps. It's a great experience.
"Whenever someone would win state, we were all happy and proud," continued Bruns. "It just shows how St. Henry can come together and be happy for the girls. It's a great feeling when you see that."
This group of seniors began to notice they had the makings of something special as they entered the junior high ranks.
"In seventh grade, I thought we had something special," said senior outside-hitter Ashley Heitkamp. "We worked pretty good together."
So tough was the competition for spots on the seventh-grade team that year that a starter on this year's team didn't even make the cut.
"I didn't make (the team) my seventh-grade year. That motivated me to push harder,' said senior middle/outside hitter Kenzie Kleinhenz. "I went home when I got my letter (noting that she didn't make the team) and bawled my eyes out. Then my sister wrote me a letter saying she didn't even play and just kept pushing me (to succeed)."
Kleinhenz rebounded and has been an instrumental contributor for St. Henry's teams from eighth-grade to present. All that remained, though, was to help the Redskins get back to state.
As this season got underway with summer camp, the seniors' goal was simple.
"I remember in the summer, our goal (was) we wanted to make state," said Heitkamp.
After losing to Miami East - a team playing this weekend for the Division III state title - at the Coldwater Spike-off Classic on the opening weekend of the fall sports season, the Redskins wasted no time in getting over that loss. St. Henry grabbed the top spot in the Division IV coaches' state poll after beating Lehman Catholic, then swept Midwest Athletic Conference rival Marion Local.
"I think it's just, every year the past couple of years, we would always play against Marion and always lose," said Bruns. "We had a big rivalry. ... This year we finally thought we were good enough. We wanted to beat Marion so bad."
The Redskins only had one match that didn't go the minimum games - that coming against Coldwater - during the regular season. But in the postseason, the Redskins had a rematch with Marion at the district final that went five games before St. Henry earned the win.
In Saturday's regional final, St. Henry lost a nine-point lead in the fourth game against Lehman before rallying with a 15-12 win in game five to earn a berth to state.
For senior outside-hitter Katie Hoyng, those tough battles can only help the Redskins this weekend in the state tournament.
"I think it helped because even when we get down or if we struggle, we proved that we can come through anything," said Hoyng, the reigning MAC and District 8 Division IV Player of the Year. "We can all stick together and know we can do it."
Kleinhenz is happy to be a part of the Redskins' return to state.
"The fact we got back to the St. Henry tradition is amazing," said Kleinhenz. "How we push each other too, because we can easily lose our spots because there's a girl just as good right below us (on the depth chart). That keeps us motivated."
On Friday, several players admitted that there will likely be some butterflies in their stomachs as they step onto the Nutter Center floor.
"I don't think it will hit me until we get in there to warm up and go to the captains' meeting," said Brunswick. "I thought beating Marion was awesome, but going to state...?"
"I'm sure we'll be real nervous," said Bruns. "The atmosphere will get to us. I'm sure (that will subside) once we start playing."