Friday, November 11th, 2011
Patriotism alive for World War II medic
By Margie Wuebker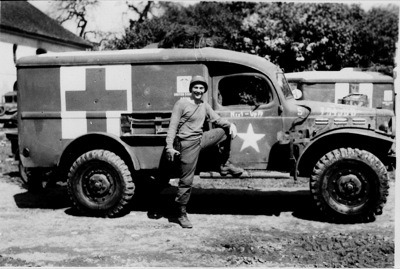 CELINA - Dr. Donald Fox touched one of the 4,000 gold stars on Freedom Wall, part of the World War II Memorial in Washington, D.C., and his mind strayed to perilous times when he and other medics retrieved wounded soldiers from the front lines.
"Those stars represent more than 400,000 Americans who gave their life so that others might live in freedom," Fox said with tears welling in his eyes. "Some of the fallen men we found on the battlefield are among those brave people remembered on that wall."
Fox, a retired physician and former county coroner, traveled to the nation's capitol with his daughter Jane this year as part of the Honor Flight Network. The program, which began in Ohio in 2005 and spread throughout the nation, aims to give veterans an opportunity to see their memorial at no charge.
"I met a man at the memorial who crossed the bridge at Remagen less than a day after my unit," the 90-year-old Celina man said. "I crossed at night and he came the following morning."
The bridge proved to be a magnet for German soldiers intent on blowing it up and stopping the advance of American troops over the Rhine River.
"Flares illuminated the nighttime sky and you could see Germans in the water," Fox said.
Soldiers preferred not to ride in ambulances if possible because German sharpshooters set their sights on large red crosses, he said. Fox showed a snapshot of himself as a young man standing beside one of the bullet-riddled vehicles and another picture of bullet holes around a cross on his helmet.
"We followed the infantry to the front line to retrieve the wounded," he said. "The Germans lit up the area with flares and then zeroed in on anything bearing a red cross."
He recalled a harrowing experience near the densely wooded Ardennes as the 99th Division of the U.S. Army Medical Services rushed forward with heavily armed infantryman. Fox became separated from the unit and took off in the same general direction.
"A soldier seated on top of a tank yelled at me to stop," Fox recalled. "I didn't know whether to follow his order or take off running. The Germans had a nasty habit of pulling on American uniforms and speaking flawless English. The only way to trip them up was to ask sports-related questions."
He trusted the man, who informed him he was in the midst of a mine field.
"The guy told me to retrace my footsteps one step at a time and yelled when I reached safety," Fox said. "I finally made it to the forward aid station to the relief of my sergeant who assumed I was dead."
Medics, carrying bandages and other emergency supplies, crawled from one injured soldier to another tending to their needs. Some of the fallen were beyond help while others were loaded onto litters and pulled or carried to clearing stations. Sleds were used when snow covered the ground.
"Our assignment was to get the injured through all the other echelons of care until they reached big military hospitals," Fox said. "We never found out how those men fared, but some were hurt so badly they could not have survived."
Fox attended the University of Chattanooga on a football scholarship and had two years of pre-med studies completed when he entered the war.
"The entire football team was placed in the reserves," he said. "However, we ended up going like everyone else as the war heated up. We landed at Omaha Beach just after the Battle of the Bulge."
Following service in the European Theatre, he was transferred to another unit and sent home on a 30-day leave before retraining for Pacific Theatre action. The war ended and he had the choice of promotion or discharge. He chose the latter and garnered admission to Temple Medical School in Philadelphia, Pa.
Upon graduation, he served an internship and residency at Christ Hospital in Cincinnati before coming to Celina in 1954 as a replacement for ailing Dr. Rudy Schmidt.
Fox never considered himself a hero, but people at the Dayton airport treated all members of the Honor Flight party in that regard.
"Men in uniform came up to shake our hands and thank us for what we did," he said. "I told them it was I who should be saying thank you."
Crowds were waiting when the Dayton flight landed near Washington, D.C., and returned to Ohio. School children waved flags and presented handmade cards to the veterans.
"I got teary eyed at the airports and at the memorial," he said. "So many brave soldiers who fought across six of the world's seven continents and all of its oceans never had an opportunity to experience such a moving show of patriotism or hear a child's thank you. They are the heroes."