Monday, November 14th, 2011
Redskins in Seventh Heaven
St. Henry volleyball wins state title in four games over TCC
By Gary R. Rasberry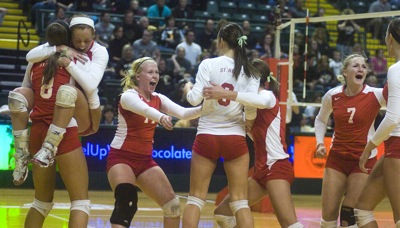 FAIRBORN - No way was St. Henry's volleyball team going to leave the Nutter Center on Saturday evening without the gold trophy.
The Redskins picked up a milestone victory in capturing the Division IV state title with a triumph in four games over Tuscawaras Central Catholic on the campus of Wright State University.
It's St. Henry's seventh all-time state volleyball championship, the second-most in state history.
The top-ranked Redskins finish the season 28-1 - the lone loss coming against Division III state champ Miami East on the first weekend of the season - and carry a 25-match winning streak into next year. The Saints (24-5), making their third straight trip to the state final four, leave as state runner-up for the second straight year.
"It's an unbelievable feeling right now," said St. Henry's coach Diana Kramer. "I couldn't be prouder of my players for all their work in the offseason and to just take care of business game in and game out this whole entire season. To end the season with a state championship means so much to them as a team and so much to me as a coach right now."
St. Henry looked ready to make it a short night in the state championship match, winning the opening two games 25-14 and 25-12 as the Saints were fed a healthy dose of Katie Hoyng. The first-team All-Ohioan had eight kills in the opening game and five in the second.
"The first two games, they took us out of running our offense. We weren't able to establish much of an offense," said TCC's coach Linda Williams. "I think a little bit of the nerves were there."
TCC's Megan Lawless didn't allow St. Henry's faithful to celebrate a sweep, as the Saints' middle-hitter made some big plays at the net to propel her team to a 13-6 lead.
The Redskins tried to rally on a solid service run by Ashley Heitkamp that cut TCC's lead to two points. Lawless helped TCC move to game point at 24-20 before St. Henry managed two more points. Lawless then hammered a kill to make it 25-22 and send the match to a fourth game.
"We got killed in the second game and came back," said Williams. "We played hard and strong and won the third game."
Lawless was the key for TCC winning the third game.
"I think they really challenged our defense when their middle (Lawless) got over our block and hitting right through it," said Redskins' setter Abby Brunswick. "You just didn't know what she would come up with."
Unlike Friday night, when Mohawk forced St. Henry to go the distance, the Redskins were determined to end the match in four games. Heitkamp served up the first four points of the game and then Kylie Koesters added another solid service run that put the Redskins up at 18-7.
TCC closed the gap a bit, but Heitkamp got the honors of the final kill of the night off a Brunswick assist to end the game at 25-18.
"You know the story of David and Goliath. That's what we were up against today," said Williams. "We played against the number one-ranked team. I thought we did a tremendous job."
Hoyng had one of her best matches of the season, finishing with a season-high 26 kills on 53 total attacks for an attack percentage of .453.
"Awesome! It was unbelievable," said Hoyng. "We have accomplished so much this season. It feels great."
Brunswick had nine kills to go with 26 assists and a game-high 16 digs. Danielle Uhlenhake added 23 assists and 11 digs.
"They were all smart players," said Lawless. "They knew what to run and were smart and athletic."
Lawless finished with nine kills and 14 assists while Briana Nedig led the Saints with 14 kills.