Tuesday, November 15th, 2011
Job seekers learn of help
By Margie Wuebker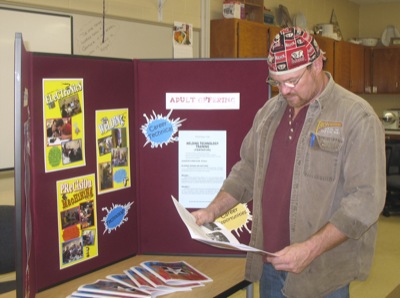 ST. MARYS - James Lockhart went from station to station collecting job applications and speaking to company representatives manning booths during a Monday night job fair at the Tri Star Career Compact.
The event, sponsored by the West Central Ohio Workforce Development Initiative, drew more than a hundred people looking to find gainful employment or move up to a better job.
Lockhart had a good job as a union iron worker until the economy took a nosedive 18 months ago. Once he traveled to jobs throughout Ohio, Florida, Louisiana, Mississippi and Pennsylvania earning at least $1,000 a week.
"I worked steady for 22 years, and now I am having trouble making ends meet," he said scanning a display dealing with upcoming training programs. "I would do anything to provide for my family, but I haven't reached the point of flipping hamburgers yet."
Lockhart shrugged his shoulders and stated that in a matter of months he has gone from "hero to zero" in terms of bread winner status.
After learning that Crown Equipment Corporation of New Bremen is seeking 70 skilled welders, the St. Marys man picked up information about a 10-week training course on welding technology Tri Star plans to offer in January.
"I completed a four-year apprenticeship as an iron worker," he said. "But I guess you are never too old to learn a new skill."
Abbie Hart of Celina listened as Ken Webb, operations manager at Minster Machine Company, explained his company's need for employees with a certain skill set. The mention of "CNC" (computer numerical control) machines piqued her interest.
Hart formerly worked at Fort Recovery Industries; now the 21-year-old is a stay-at-home mom with two young children. She enjoyed working with robots, learning basic machine setup and inspecting finished parts before falling victim to layoffs.
"I want to learn more about robots and CNC machines," she said.
She was pleased to learn of a collaborative training effort between Tri Star, Wright State University-Lake Campus, Rhodes State College, Apollo Joint Vocational School and Upper Valley Career Center.
"We touched base with companies throughout the area regarding their needs," Rhodes State representative Matt Kinkley said. "And we found the areas of CNC and welding at the top of the list."
Tri Star director Tim Buschur said the school's 10-week welding program will focus on the basics of welding and beyond with exposure to reading, sketching and interpreting working blueprint drawings.
"The goal is to give participants the kind of exposure to get their foot in the door," he explained. "There are good jobs here in the area with steady companies."
Apollo, Rhodes and Upper Valley are planning CNC coursework to address the needs of businesses such as Randall Bearings of Lima, Minster Machine and AAP of St. Marys.
"Applicants need to have training in machine trades," said Mary Dupes, Randall's human resources manager. "Training courses like the one the schools are proposing give a sound foundation on which we can build."
Training programs are scheduled to begin in 2012. Sponsorships may be available through local businesses. Prospective applicants must have critical thinking skills and be able to pass a drug test.
"This is one way to acquire needed skills for jobs available right here in the area," workforce development initiative member Angela Hamberg said.
Her words were like music to 54-year-old Kevin Brown, who has been laid off since 2007. He wants stability and a steady paycheck instead of making do with odd jobs.
"Odd jobs have kept me going and whetted my appetite to get more education," he said.