Wednesday, November 16th, 2011
Monument showing its age
By William Kincaid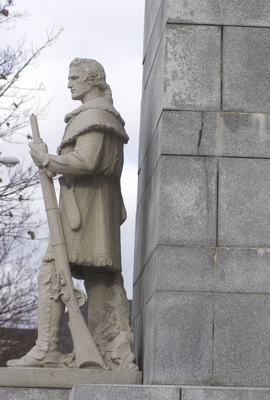 FORT RECOVERY - The village's 101-foot tall monument completed in 1913 to memorialize U.S. soldiers killed during the Indian Wars is in need of repair, according to various officials.
"Both the local historical society and the Ohio Historical Society are aware there are some pretty serious cracks in our beautiful Fort Recovery Monument," Fort Recovery State Museum Director Nancy Knapke wrote in a museum newsletter.
According to Knapke, the 800-ton monument consisting of granite, concrete, bronze and other materials cost $23,700 to construct, beginning in 1912.
"With all that material and height, it is no wonder that after 100 years, repairs would be needed," she wrote.
Helen LeFevre, a member of the Fort Recovery Historical Society, said the monument needs attention before its 100th birthday is celebrated in the village in 2013.
"It is going to need repair," she said. "It's not like it's something that happened overnight."
President William Howard Taft signed a bill in 1908 that allowed for construction of the monument. LeFevre said although the monument was a federal project, it is owned by the Ohio Historical Society (OHS).
"We are working with them right now," she said.
Tuck-pointing of the monument may have occurred last in the 1970s, she speculated.
George Kane, director of historical sites and facilities with OHS, this morning said the organization is assessing the monument and will receive an estimate for the work. Financing may be obtained though a state capital appropriation approved by legislators, he said.
State legislators periodically pass an appropriation bill that funds projects all over the state, he said. That normally happens every two years and was scheduled to occur last year, but that didn't happen, he said.
The challenge will be prioritizing the many needs across the state, he said.
LeFevre said Fort Recovery Historical Society members will decide next year how they will celebrate the monument's 100th birthday.