Tuesday, November 22nd, 2011
Council hears estimate to remodel city building for meeting room, storage
By William Kincaid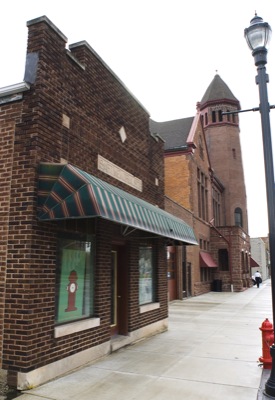 CELINA - Remodeling the former Winkeljohn Printing building owned by the city would cost about $38,720 in materials, Celina Planning and Community Development Director Kent Bryan says.
That figure includes creating a fire department educational training room and new room for council meetings.
Bryan informed city council members of the remodeling estimate on Monday night during a personnel and finance committee meeting, where they continued to review the 2012 budget. The estimate would increase $1,500 if city officials add a door in the wall connected to the fire department.
The mostly vacant city property, which is more than 80 years old, was previously proposed as storage space for police files and records.
"Our need in the police department is space," Celina Police Chief Dave Slusser told council members.
Slusser said people involved in incidents - witnesses, victims and suspects - often have to fill out reports or talk to officers in the hallway because not enough space is available in the interrogation and interviewing rooms. He said moving some of his department's files to the Winkeljohn building next door would free space for other functions.
Bryan's $38,720 estimate is for materials for framing, ceiling and flooring and for state permits. His estimate does not include labor.
"We've been sitting on that building for so long," councilman June Scott said, adding something should be done with it.
Fire chief Doug Wolters requested the educational training room. Some council members discussed the possibility of moving their council meetings from the municipal courtroom of city hall to the Winkeljohn building.
In the municipal courtroom, council members have their backs toward some of the audience. Council members temporarily held their meetings at the conference room at the GAC water treatment facility but limited parking was an issue, councilwoman Angie King said.
The Winkeljohn building would take care of both the sitting arrangement and parking issues, council members said.
Bryan and Wolters agreed a previous suggestion of using the Winkeljohn building to store fire vehicles is unlikely.
Councilman Mike Sovinski said the number one priority of the building should be police space.
In the summer of 2009, the city unsuccessfully applied for $2 million in federal stimulus funds to refurbish city hall, which would have included construction of a new multi-bay firehouse and additional space for the police department.
City hall, which houses the police and fire department, municipal court and auditor's and tax administrator's offices, has long been considered overcrowded.
The city purchased the next door Winkeljohn building for $70,000 in October 2007. The 3,200-square-foot building shares a wall with the fire department.