Wednesday, November 23rd, 2011
Mayor wins election by two votes
Rockford
By Amy Kronenberger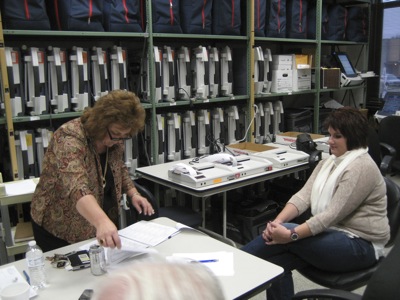 ROCKFORD - Official election results released Tuesday showed incumbent Amy Joseph won the Rockford mayor's seat by two votes.
Joseph tallied 178 votes, and challenger Robert King received 176. The vote must be within one-half of 1 percent to constitute an automatic recount, Mercer County Board of Elections Director Deb Sneddon said. In the Rockford race, that equaled 1.77 votes.
Elections staff counted provisional and absentee ballots on Tuesday, which were added to ballots cast Nov. 8. Unofficial results had Joseph beating King 173-170.
Candidates have the option to request a recount. However, the candidate who makes the request is charged a $55 fee.
King said he will not request a recount but will consider running again in four years.
Joseph, who was present at the courthouse when the results were announced Tuesday, said she wanted to thank Rockford residents for their support.
"The wait's been very hard," she said. "It's been a long two weeks, but now I can look forward to serving Rockford for the next four years."
The board of elections won't certify the official results until overlapping results from Auglaize, Darke and Van Wert counties have been received, deputy director Laura Bruns said. No races other than Rockford's were close enough to change election night results.
All results must be certified to the state by Dec. 2.