Saturday, November 26th, 2011
County detective moves to state level
By Margie Wuebker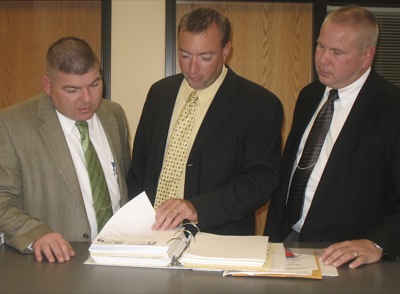 Chris Hamberg likens crime solving to putting together a jigsaw puzzle. Sometimes the pieces fit together easily; other times they defy placement despite multiple attempts.
Hamberg, a former detective with the Mercer County Sheriff's Office, is embarking on a new job with the Ohio Bureau of Investigation and Identification (BCI & I) headquartered in London. He began his new duties Monday and will be assigned to the department's regional office in Bowling Green after orientation and training.
The 40-year-old Coldwater resident will be working from home and responding to calls within the northwest district, which includes Mercer, Auglaize, Van Wert, Allen and Putnam counties. However, he and other agents can be summoned to any part of the state when more manpower is needed.
Hamberg's interest in investigation drew a promotion to detective after long-time mentor Kip Wright announced his retirement from the Mercer County Sheriff's Office in 2004. He drew upon the expertise of Wright and detective Pat Elking when settling into the new role.
"I learned a lot from those two guys," he said. "Being a detective is like putting together a puzzle. All the pieces of a crime have to fit together in order to first identify a suspect and then obtain a conviction. The goal is to bring the person responsible to justice."
Hamberg equates the process to a chess game - each move produces some result.
"You ask yourself, 'If I move this piece here, what will happen?'" he explained. "The right moves make all the difference."
Hamberg became interested in law enforcement when he was 16 and involved with the sheriff's Explorer Post. He graduated in 1990 from Coldwater High School and earned an associate's degree in criminal justice from Lima Technical College. He transferred from the jail to a cruiser in May 1995, serving as a road deputy.
The detective admits the case involving the death of St. Henry infant Trevor Stammen was the most challenging of his career. The 5 1/2-month-old child died in July 2008 of blunt force trauma to the head.
The investigation took many twists and turns with the pendulum of suspicion swinging from the parents (Brian and Angie Stammen) to the baby-sitter (Tamara "Tammy" Evers) and then back again, Hamberg said. The lengthy investigation resulted in Evers' indictment in late 2009.
Hamberg's last official duty with the sheriff's office was to testify at Evers' Nov. 19 mitigation hearing.
"We had no physical evidence in the case other than the coroner's findings and the likely time the injuries occurred," he said. "We had nothing definitive - no smoking gun or any other weapon for that matter and even the initial timeline was wrong."
Evers faces up to 11 years in prison when she is sentenced Dec. 20 on charges of involuntary manslaughter and perjury.
Other difficult investigations in Hamberg's career include those related to Nick Schwieterman's role in the traffic deaths of four Maria Stein-area men in 2008 and the case of monument dealer Mary Jo Pearson, who bilked clients out of thousands of dollars without providing grave markers.
Local investigators received assistance from BCI & I in determining that Schwieterman was the driver involved in the accident. Tests performed in Bowling Green determined blood found on the driver's air bag came from the Chickasaw man and not a passenger.
"Investigations do not proceed the way they do on television," Hamberg said with a smile."There are not 10 people assigned to a case with test results coming in a matter of minutes. It takes time and legwork. Sometimes an interview with one person leads to another person who knows a little more and that person leads to someone else."
Deputy Megan Baker is replacing Hamberg. She will be working with detectives Barry Niekamp, Lance Crum and Doug Timmerman.
Sheriff Jeff Grey hates to see Hamberg leave the county office.
"He has been an asset to this office and he will continue to be," the sheriff said. "We call on BCI & I from time to time and now we know Chris will be the agent coming through the door."