Wednesday, November 30th, 2011
Double murder by Fort Recovery
Law enforcement investigating deaths of father, daughter
By Margie Wuebker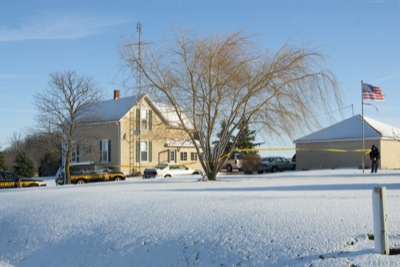 The Mercer County Sheriff's Office is investigating the discovery of a man in his 70s and a woman in her 40s found dead this morning in a home near Fort Recovery.
"At this point it definitely appears to be homicides," Mercer County Sheriff Jeff Grey told The Daily Standard late this morning.
He declined to comment whether the pair had been shot or where in the home the bodies were located.
He also declined to identify the pair pending notification of family members. However, he did describe the victims' relationship as father and daughter.
The home, located in the 2200 block of Burrville Road, is situated between St. Joe and Fort Recovery-Minster roads in Recovery Township. Deputies have taped off a wide perimeter around the property to facilitate the investigation.
The sheriff's office received a 911 call around 9 a.m. this morning from a family member who went to the home to check why the woman had not shown up as expected. The unidentified caller indicated a possible burglary had occurred and two people were down.
"No one has been in the crime scene other than the family member and deputies who went to see whether the victims could be helped," Grey said. "We expect the arrival of agents from the Bureau of Criminal Investigation and Identification (BCI &I) around noon."
Authorities believe the apparent crimes occurred sometime after 5 p.m. Tuesday - the last time someone saw or talked to the daughter.
With several inches of snow covering the ground this morning, deputies found no telltale footprints leading to or from the frame home or several outbuildings on the premises, according to Grey.
Mercer County Coroner Dr. Timothy Heinrichs has been notified of the deaths. Autopsies will be performed once the bodies are released from the scene.
The sheriff's office has not determined whether a burglary occurred at the premises. He did say deputies have received reports of other burglaries in the county, with the most recent being an apparent break-in at the office of Florence Livestock near Celina. That call was received at 8:08 a.m. Tuesday.
"We have had other burglaries in the county," Grey said. "However, we have no reason to connect them with this crime at this point."
Grey said the apparent homicides are different from other incidents involving loss of life in Mercer County.
"Other cases have been the result of fights or marital issues," he said. "This is an unusual situation for this county. At least I have not seen anything of this nature during my 31 years in law enforcement."
Anyone who spotted unusual activity in the area should call Detective Doug Timmerman at 419-586-7724.