Friday, December 9th, 2011
Winner's 19 vaults Flyers past Wildcats
By Robb Hemmelgarn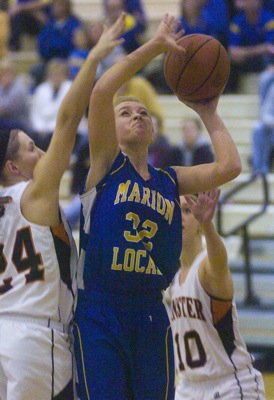 MINSTER - It may have been the Midwest Athletic Conference opener, but Thursday's matchup between Marion Local and Minster could go a long way in determining the MAC girls' basketball champion as the Flyers and Wildcats are expected to be among the league's elite.
Marion Local made a statement and could be viewed as the potential favorite for the MAC crown after picking up a 38-31 victory on the road at Wildcat Gymnasium.
"Anytime we play Minster, it is an absolute dog fight and tonight was no different. They are a very well-coached team," said Marion Local's head coach Treva Fortkamp, whose Flyers ended a three-game losing streak to the Wildcats. "We came in eager to get back to playing after being off for the past 13 days. I felt we did a great job of putting things together in the first half and it was great to get out of here with a win tonight."
The Flyers opened strong with an 11-4 lead before closing the first quarter in front 13-7. The Wildcats opened the second quarter with a pair of free throws from senior guard Kayla Albers, but the Flyers grabbed control from there. A jump shot by freshman Allie Thobe along with a deuce by junior Chelsea Winner was followed by Margaret Wuebker's three-pointer and the Flyers surged in front 20-9 as Minster's head coach Nann Stechschulte signaled for a timeout.
Whatever Stechschulte hollered in the huddle paid immediate dividends as her girls answered with six straight points to pull to within five at 20-15. Chelsea Winner scored her team's next five points and the Flyers led 25-18 at halftime.
The two teams traded baskets in the first few minutes of the second half, but a three-pointer by Thobe gave Marion Local a 10-point advantage at 30-20. Minster cut the deficit to six points after a free throw from Heather Schmiesing and a three-pointer from Wuebker.
After a Winner bucket, Minster closed the period with three straight points and trailed 32-27 at the end of the third quarter.
"Minster came out in the second half and we didn't react very well to their aggressiveness," said Fortkamp. "We had a lot of girls really step up tonight though, and that was very important. Chelsea had an outstanding game and our freshman, Allie Thobe, hit some clutch shots for us as well during the game."
Two free throws by Wuebker and a mid-range jumper from Samantha Hoelscher lit a spark in the Minster crowd as the Wildcats trailed just 32-31.
However, Winner came to the Flyers' rescue with the last of her 19 points in the game to push the lead back to three points. A trio of Minster turnovers in the final minute prevented any hope for a Wildcats' comeback as the Flyers left town with the seven-point victory.
"We missed a lot of shots in the early parts of the game and they really came back to haunt us tonight," said Stechschulte, whose Wildcats slipped to 2-1 on the season. "Chelsea Winner really hurt us in the first half, and we made a few adjustments for that at halftime, but they hung in there to pick up the win."
While Winner's 19 counters were the best on the floor, she was joined in double-digits by Thobe with 11 points. For the Wildcats, Kayla Wuebker and junior Bridget Geiger each contributed 10 points in the loss.
"We went about 10 deep tonight, both out of necessity and experimentation," said Stechschulte. "We need to develop some consistency and that is what we are trying to do right now. We are still working hard to attempt to develop the right combination on the court. Tonight was definitely a great game to see where we are as a team."
Marion Local is back in action on Tuesday when the Sidney Lehman Cavaliers invade The Hangar while Minster takes a week off before engaging in another pivotal MAC game when it travels to Delphos to meet St. John's at the Vatican.