Saturday, December 17th, 2011
Indians 30 points better than Panthers
By Tom Montgomery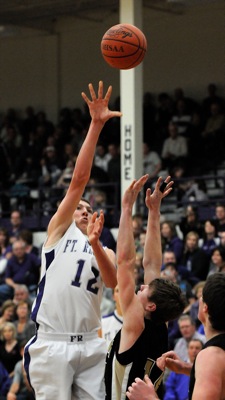 FORT RECOVERY - The Fort Recovery Indians improved to 5-0 on the season following a 56-26 thrashing over the winless Parkway Panthers at Fort Site Fieldhouse on Friday night.
The Indians dominated in nearly every phase of the game from start to finish.
"They shot the ball extremely well," said Parkway's coach Will Snyder. "We wanted to stay with them and contest shots. (But) they probably shot 60 percent in the first half (the Indians actually hit 66.7 percent of their first-half shots) and most of them were with a hand in their face."
Wade Gelhaus and Elijah Kahlig were the top offensive weapons on the night for the Indians. Gelhaus poured in a game-high 22 points while Kahlig contributed 17 points.
The Indians built an early 13-2 lead in the first quarter over the Panthers thanks to four points from Gelhaus and a trifecta from Kahlig.
A scoring drought of over three minutes at the start of the second quarter all but ended Parkway's hopes of winning this contest. The Indians went on a 10-0 run to extend their lead to 28-9 and took a 19-point lead into halftime.
Neither team showed much offensive prowess in the third quarter, but Fort Recovery outscored Parkway 9-6 to push its lead to 44-20 entering the fourth quarter. Gelhaus opened the second half with a slam dunk that brought the crowd to their feet. The dunk also gave the standout junior his season average of 18 points with almost an entire two quarters left to play.
The Indians' Jared Kahlig scored six straight points, including a three-pointer, to open the final period and the Indians extended their lead to 30 points.
Asked what he thought of his team's effort, Fort Recovery's coach Brian Patch said, "We need to continue to get better. This wasn't the best we can play. We've got the meat of our schedule coming up with the MAC. I thought we started off pretty well on offense and defense. We had some pretty good possessions. But our kids got frustrated with some things.
"The effort was there," Patch continued. "Just our execution was a little off. We can get a lot better."
Fort Recovery returns to Fort Site Fieldhouse on Tuesday to face Waynesfield-Goshen. The 2010-11 Indians' girls basketball team that advanced to the state final four a year ago will be honored during the game. Parkway is back in action again tonight with a road trip to Convoy to face Crestview.