Monday, December 19th, 2011
Each nation adds own touch to holiday
By Margie Wuebker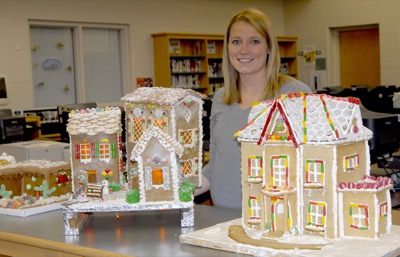 Local residents who moved from a foreign land to Mercer County say Christmas customs vary from country to country but westernization has brought many similarities.
German native Denise Luedeke, who teaches her native language at St. Henry and Marion Local schools, likes to share Christmas customs from her land with students.
"Christmas trees are put up on Dec. 24 and remain in place until the Feast of the Three Kings in January," she said. "People do not put up lights outside like they do here."
Christians in her homeland mark St. Nicholas Day on Dec. 6. The harbinger of the approaching holiday season leaves candy, nuts and fruit.
Der Weihnachtsmann (Christmas Man) leaves stacks of presents at some homes while other families attribute the gifts to Christkind (the Christ Child) or a Christmas angel. The holiday figures tend to come in while family members are at church, although Luedeke points out one person generally remains home and allows others to attend services.
"I remember going to my grandparents' home and eating a big meal," she said. "Then my grandmother would pass out the song books and we would have to sing three or four hymns before it was time for presents."
Luedeke, who invites students to make gingerbread houses as part of a holiday custom started years ago by her predecessor Linda Schwegman, believes the smell and taste of gingerbread embodies the Christmas season.
"All German markets have gingerbread houses and hearts as part of the holiday season," Luedeke said.
Down-filled parkas, snow boots and warm gloves remain out of sight during the holidays in Australia with temperatures rising into the 80s and 90s.
Yvette Fuelling of Celina, who grew up in the "land down under," recalls Christmas as a time for barbecues and beach outings.
In addition to barbecued fare, a holiday meal in Australia included seafood, plum pudding and pavlova. Named after the Russian ballerina Anna Pavlova, the meringue confection features kiwi, passionfruit, strawberries and whipped cream.
The day after Christmas (Dec. 26) is a national holiday known as Boxing Day. The event has nothing to do with pugilistic activities.
"Boxing Day was traditionally when servants stayed with families to assist at Christmas festivities," Fuelling said. "They received a boxed gift from the family when they left."
The Rev. Benedict Magabe, associate pastor in the St. Henry Catholic Church cluster, has witnessed the effects of globalization in his native Tanzania.
"There is no Santa Claus but Father Christmas comes to hotels and stores in big cities to talk with children and give them some candies," Magabe said. "Christmas is a time to buy new clothes or good used clothes. Everybody wants to dress good and look good according to their means."
It is not unusual for youths to band together and approach would-be benefactors proclaiming "Hallelujah." Many times the people respond "He is born" and gift them with coins. Youths pool their money at the end of the day to sweeten the holiday with candy.
Young men often slaughter some of their animals for Christmas Eve and Christmas Day parties. Sometimes 200 people show up representing many residents of a village and nearby settlements. The last cow is saved for New Year's Eve to ensure everyone welcoming another year has plenty to eat.
"People go to church on Dec. 24 and again on Dec. 25," Magabe added. "There is much singing and dancing in church on Christmas because the people are so happy."
Christians and even Muslims in his village send cards to relatives and friends, but gifts are uncommon. People prefer to spend what little money they have entertaining guests.
Mick Quigley of Celina remembers Christmas Eve in his native Scotland as a time for children with a jolly fellow in a red suit bringing all sorts of gifts.
"Families get together and there are presents galore," he said. "Adults get together Christmas night, and the day after for a beer or maybe two."
Villages throughout Scotland mark the approaching holiday in colorful fashion.
"Everybody decorates their homes from top to bottom just like the Americans," he said. "Christmas has been westernized in Scotland, but we do New Year's up right."
In keeping with tradition, people don kilts and other festive attire to go door to door carrying a lump of coal in hopes homes will be warm during the coming year.
"That amounts to a pile of coal if you have a lot of visitors," he said with a laugh. "On New Year's morn, everyone opens the windows and the doors to let out all the old air and welcome in new. You always hope for warmer than expected temperatures."

Christmas traditions vary around the world:
Here is some trivia regarding Christmas throughout the world:
• After "A Christmas Carol," Charles Dickens wrote several other Christmas stories, but none was as successful as the original.
• A traditional Christmas dinner in early England was the head of a pig served with mustard.
• An artificial spider and web are often included in decorations on Ukrainian Christmas trees. A spider web found on Christmas morning is believed to bring good luck.
• Candy canes began as straight white sticks of sugar candy used on Christmas trees. A choirmaster at Cologne Cathedral decided to have the ends bent to depict a shepherd's crook and he would pass them out to children to keep them quiet during services. It wasn't until the 20th century that candy canes acquired their red stripes. • Christmas caroling began as an old English custom called "Wassailing" - toasting neighbors to a long and healthy life.
• Cultured Christmas trees must be shaped as they grow to produce fuller foliage. To slow the upward growth and encourage branching, they are hand-clipped in the spring. Trees grown in the wild have sparser branches, and are known in the industry as "Charlie Brown" trees.
• Electric Christmas lights were first used in 1895. The idea came from American Ralph E. Morris. The new lights were safer than traditional candles.
• Franklin Pierce was the first U.S. president to decorate an official White House Christmas tree.
• Greeks do not use Christmas trees or give presents at Christmas. A priest may throw a little cross into the village water supply to drive out gremlin-like spirits. To keep them from hiding in dusty corners, he goes from house to house sprinkling holy water.
• Long before mistletoe was used to encourage kisses during the Christmas season, Celtic and Teutonic peoples considered it to be endowed with magical powers. It was said to have the ability to heal wounds and increase fertility.
• The tradition of Christmas lights dates back to times when Christians were persecuted for saying Mass. A simple candle in the window meant that Mass would be celebrated there that night.
- Margie Wuebker