Wednesday, December 21st, 2011
Baby sitter gets maximum term
Evers sent to prison for death of infant
By Margie Wuebker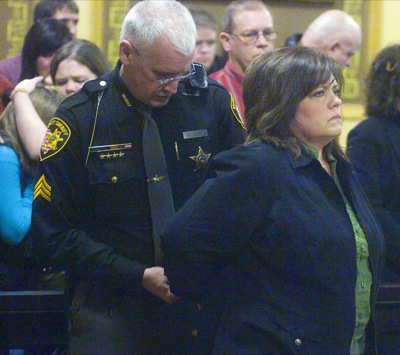 Applause rippled through Mercer County Common Pleas Court on Tuesday afternoon when a former St. Henry baby sitter was sentenced to 14 years in prison for the death of an infant in her care.
Tamara S. "Tammy" Evers, 47, 502 Northview Drive, showed little emotion as Judge Jeffrey Ingraham imposed the maximum sentences in the case stemming from the July 2008 death of Trevor Stammen.
She received 11 years for involuntary manslaughter, a first-degree felony, and three years for perjury, a third-degree felony, with the time to run consecutively. The judge granted credit for three days served during pendency of the case.
In addition, Evers faces 5 1/2 years of post-release control after she leaves the Ohio Reformatory for Women in Marysville.
The sentence included no restitution. That matter will be determined through a pending civil lawsuit filed on behalf of the infant's family.
Trevor Stammen died July 8, 2008, during surgery at Miami Valley Hospital in Dayton. An investigation into his head injuries went on for months with Evers testifying under oath she had no idea how the baby had sustained the injuries. In November 2009, she confessed the infant had fallen from a diaper-changing table to the floor, a distance of approximately 30 inches.
Experts later disagreed on how the baby was injured - one saying a fall could not have caused two skull fractures and a subdural hematoma and the other saying a fall could have aggravated an earlier injury.
On Sept. 27 of this year, Evers entered an Alford plea of guilty to involuntary manslaughter, admitting the state likely had sufficient evidence to obtain a conviction at trial. She maintained her innocence. At the same time, she entered a traditional guilty plea to the perjury charge.
The baby's father, Brian Stammen, told the court his son would have turned 4 years old on Jan. 18. He wondered aloud about his excitement at Christmas.
"If I could, I would trade this sentence for five minutes locked in a room with this lady and no law. She has put us through hell," he said.
Angie Stammen, the baby's mother, also recounted Evers' lies the day of Trevor's injury and the day of a juvenile court hearing when Children's Services attempted to remove the couple's other children.
"I would like the court to be aware of the fact that Brian and I did not want to accept this plea bargain," she said, her voice shaking. "The act of Tammy Evers on July 8, 2008, was in fact murder. She took my 5 1/2-month-old and, in a fit of rage, slammed his head not once but twice onto a flat, solid surface."
In the next breath, she asked the judge to consider nothing less than the maximum sentence.
"She should not serve a day less than this already pathetic punishment for the murder of my beautiful little boy," she said.
Dustin Stammen, Trevor's older brother, asked the court for just two things - justice and an apology.
Evers, with defense attorney Greg Wilson at her side, apologized to the Stammen family but never turned to face them.
"I apologize to them for my negligence in this tragic accident and the grief caused by my silence," she said.
She paused momentarily before adding, "There is not a day goes by that I do not wish I could go back and change the choices I made. They were not planned choices, just panic and now regret. I fully understand the amount of pain and suffering I caused ... by withholding the truth of Trevor's fall for so long."
Ingraham, who saw framed photographs of the smiling infant every time he looked up, minced no words when it came to sentencing on the perjury charge. He said Evers violated a position of trust by lying in order to protect herself and labeled the action "self-centered."
On the involuntary manslaughter charge, Ingraham spoke about the differing opinions of medical experts. An autopsy performed following the infant's death listed homicide due to blunt force trauma.
"One thing that is consistent from the facts of this case is that the defendant, knowing that Trevor Stammen had been injured and seeing visible signs that the child was suffering as a result of the injuries, failed to do anything to provide information to any emergency personnel as to what had occurred, which information could have minimized the chances that the injuries would result in Trevor's death," Ingraham added.
The judge, who appeared to struggle with composure at times, admitted human beings look to courts for justice
"Unfortunately, the kind of justice people often seek cannot be found within the laws of man. We all know that there is nothing the court can do to restore the life of Trevor. In addition, there is little the court can do to even assist in repairing the relationships that have been broken by the defendant's violations of trust of those involved in and affected by this case. When we look to our legal processes to repair the brokenness caused by people's actions, we are most often disappointed," he said.
Mercer County Assistant Prosecutor Matt Fox deferred to special prosecutor Scott Longo of the Ohio Attorney General's Office for comments. He noted Evers' maintaining her pattern of lies three times longer than the 173 days Trevor Stammen was alive and on earth with his family put the Stammens under scrutiny. He noted the parents were interrogated for hours on the eve of their son's funeral and that a Children's Services caseworker called the mother a murderer in front of the baby's siblings.
"She has never accepted responsibility for her actions," Longo said, looking toward Evers. "The blunt force injuries Trevor sustained were inflicted and not accidental."
He methodically accounted for her absence from home on July 8, 2008 - going to her parents' home to use a computer, visiting the bank and then paying on delinquent real estate taxes at the courthouse. Seven children, including five younger than 5, remained at home. She apparently returned around 10 a.m. - the same time when Dustin Stammen reportedly heard his little brother cry and then the crying stopped. Longo pointed out the lies began at that point.
Wilson, the lead defense attorney, was shocked at the unexpected 14 years imposed by the judge.
"She had to be punished but I am shocked by the length of the sentence," he said. "Basically, it all came down to the lies and that is a harsh sentence for lying."