Tuesday, December 27th, 2011
Local shoppers snag bargains
Some people are making returns after Christmas, but many spending
By Margie Wuebker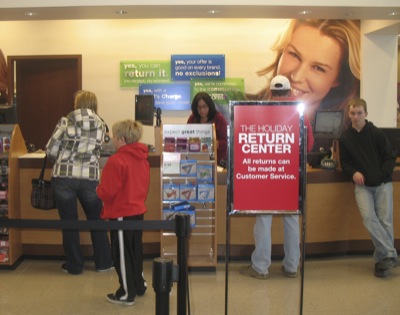 While area stores noted some returns as expected on the day after Christmas, most shoppers on Monday went to look for bargains and to cash in gift cards.
David and Karron Bechtol of North Star flashed big smiles as they left Kohl's in St. Marys Monday afternoon.
"We used gift cards we received as gifts," Karron said displaying a bag of merchandise. "We got what we wanted without having to wait our turn at the return desk."
Janae Dailey of rural Greenville was not as fortunate as the Bechtols. She visited four different stores with bags containing gifts ranging from a hot pink sweater that was too small to fur-trimmed boots several sizes too large. The Keurig coffee brewing system was one of two she received.
"I'm not a picky person," she confessed with a giggle. "Except for the Keurig, everything would be great if I could stretch the sweater and shrink the boots."
No sizes are required for the increasingly-popular present - gift cards.
The U.S. Retail Industry estimates the Christmas season gift card market totals $28 billion, with restaurant offerings being the most favored followed by department stores and Amazon.com.
A woman in a St. Marys Roughriders jacket, who declined to give her name, plucked several cards from a Kroger display on Monday.
"I've got another holiday party midweek," she explained. "I gave four of them to my father-in-law on Christmas Day and wrapped each one in a separate box. It doesn't take a rocket scientist to tell the contents of a small flat package."
The woman confided she also received a holiday gift by purchasing many of the cards when Kroger offered four times the customary fuel points.
"I got $1 per gallon off a gas purchase while tackling the lion's share of my gift list," she added. "And the recipients were delighted."
St. Henry resident Irene Kleinhenz had just "a couple" things to return Monday and hoped to take advantage of the after-Christmas sales.
"Making returns is not a problem if you have the tags and sales slip," she said.
The National Retail Federation expects a 3.8 percent increase in holiday sales, up from its original forecast of 2.8 percent made in September when the economy's recovery looked more uncertain.
Shoppers visiting stores in Mercer and Auglaize counties said they spent more this year than they did in 2010 or 2009. Most cited the improved economy and low unemployment rates.
"It's hard to make ends meet with unemployment checks," one man said. "I wasn't working last year but I am this year. Yeah, there were a couple more gifts under our tree but not a whole bunch."
Other families said they now have an agreement that they will wait until after Christmas to receive their more expensive gifts.
"You can save 60 to 70 percent by waiting a couple days," David Bechtol said. "It doesn't matter what you're looking for, there are big discounts in nearly every department."