Friday, December 30th, 2011
Bulldogs 'Berry' Green Wave from three-point range
Asset Allocation Associates Holiday Shootout Tournament
By Ryan Hines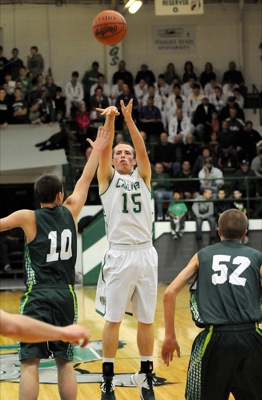 CELINA - Greenville's strategy going into Thursday's matchup against Celina in the semifinals of the Asset Allocation Associates Holiday Shootout Tournament was for the Green Wave's defense to force the Bulldogs to score from the perimeter.
Scoring from the perimeter was not a problem for the Bulldogs as Celina canned 12-of-19 from three-point range en route to a convincing 67-49 win over Greenville.
"They were lighting it up. We wanted to cut the paint off and take our chances with them taking threes. We died by it," said Greenville's head coach Dane French. "They have good players and several guys that can shoot it from long range. They showed that tonight."
Celina (4-3) will take on Columbus Bishop Ready in tonight's championship game after the Silver Knights knocked off winless Bryan 54-37 in the other semifinal matchup. This is the third time in the last four years that Celina will take on Bishop Ready in the finals of the holiday tourney.
Kyle Berry led Celina's three-point barage as the junior wing hit six treys en route to scoring a career-high 20 points to go with a game-high eight rebounds. Berry's previous high in scoring was 10 points.
"I felt good tonight," said Berry, who hit six straight treys after missing his first attempt. "I really haven't done much offensively this year and I wanted to be aggressive tonight."
"He's shooting over 50 percent on threes this year, so we wanted to get him a couple of early looks," said Bihn. "Once he made that first one, he was ready to roll and was looking for his shot. He had a nice game."
Scott Moeder came off the Celina bench to bury a trio of three-pointers and finished with 12 points while Ryan Hoyng, Braden Billger and Riley Luebke also hit a three-pointer in the game. Matt Buschur battled through constant double teams and finished with 11 points.
"I was very happy with our offense tonight. We got the ball inside and we were getting our perimeter shots from passes out of the post," said Bihn, who saw all 11 players that hit the floor score at least two points. "They collapsed on the post when we got it in there and we got a lot of open looks when we were stepping into our shots."
Greenville had an 8-5 lead midway through the first quarter but Celina closed the opening eight minutes with an 11-0 run in the final 1:42 for a 16-8 lead. Berry hit a pair of treys and Hoyng added five points to ignite the run.
Greenville temporarily halted Celina's momentum by scoring the first four points of the second quarter, but the Bulldogs closed the first half on a 19-0 run that gave the home team a commanding 35-12 advantage at halftime. Buschur had seven points and Berry added five more during the run.
"We had two nice steals and scored six quick points there at the end of the first quarter and we had some momemtum going there," said Bihn. "Then we closed the first half with a 19-0 run. It is always important to close quarters strong and we did that in the first half tonight."
The Green Wave outscored Celina 37-32 in the second half but the Bulldogs' lead never dipped below 18 points.
Curtis Conrad led Greenville with 15 points while Zack Comer added 11 points.
Bihn attributes the Bulldogs' somewhat slow start because of a lineup change as Moeder and Billger were held out of the starting lineup for disciplinary issues.
"Braden didn't start tonight because we are concerned about him playing hard enough," said Bihn. "Scott missed our shootaround this morning at 10 a.m., so we decided to bring him off the bench."

Bishop Ready 54, Bryan 37
The Silver Knights outscored the Golden Bears 15-3 in the first quarter and Bishop Ready rolled to a 17-point win over winless Bryan (0-6).
Josh Gantz led Bishop Ready with 11 points while Kyle Wilgus added 10 points. Austin Schimmoeller and Aaron Bruot paced Bryan with 12 points apiece.