Monday, December 5th, 2011
Flyers soar to state championship
Marion Local's quick start buries Buckeye Central
By Gary R. Rasberry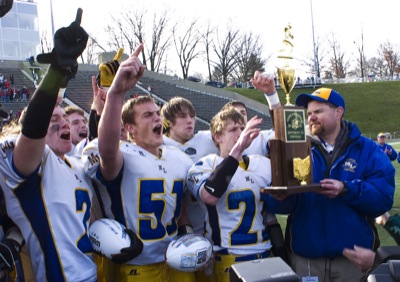 CANTON - It didn't take long for Marion Local to prove it was the best team on the field during Saturday's Division VI state championship football game.
The Flyers roared out to a tremendous start and won the program's fifth state football title with a 61-21 win over New Washington Buckeye Central at Canton's Fawcett Stadium.
The Flyers win their first title since 2007 and finish the season with a record of 13-2. The Bucks, playing in their first state final since 1995 - ironically losing to another Midwest Athletic Conference team in St. Henry - finishes the season at 12-3.
"We did what we wanted to, as far as getting out in front early," said Flyers' coach Tim Goodwin. "You saw they had the ability to move the ball on us somewhat. We wanted to take that away from them.
"It seems like a long time since we've been here," continued Goodwin. "Especially since we've been close in 2008 and 2009, we were in the final four and couldn't get through the semifinal. Last year we were upset in round two (by Minster) when, really, we really had the team to knock on the door last year. We were very disappointed last year with our performance. I think we had a hunger and a passion all year that we let a game get away from us. It fueled me."
Buckeye Central's head coach Jason Ratliff was complimentary of the Flyers in defeat.
"First of all, congratulations to Marion Local, they're a fine football team," said Bucks' coach Jason Ratliff. "We knew they had a lot of team speed, they play in a tough conference and have a quality program. We knew that coming in. Their team speed affected us today. It was one of those games where they were a little bit better than us."
It took just 2 1/2 minutes for the Flyers to draw first blood with All-Ohio tailback Jake Heitkamp running the ball five times for 19 yards and quarterback Adam Bertke hitting all three of his passes. Bertke completed two passes to Dylan Thobe for 28 yards to set up Heitkamp for an eight-yard TD run to make it 7-0 after Lee Pierron's PAT kick.
On the Bucks' first time on offense, Tyler Erwin was able to move the ball 13 yards, but on a first-and-10 from the Bucks' 47-yard line, Jacy Goettemoeller registered a sack at the 40 and forced a fumble. The Flyers' Aralic Keller scooped up the ball and returned the fumble 38 yards for a score to Marion Local on top 14-0.
It was 21-0 after the first quarter when Bertke hit Kellen Goettemoeller for a 13-yard touchdown pass.
The Flyers' defense continued to put the pressure on Erwin, the Division VI co-Offensive Player of the Year in the state. Marion Local sacked Erwin three times in the first quarter for negative 24 yards and held the Bucks' standout to just 2-of-5 passing for 17 yards.
"They show you so many different looks," said Ratliff of the Marion Local defense. "They angle to strike the weak side. You get different coverages in the secondary. It's almost a small college team when you see those types of looks. Most high school teams don't do those type of things."
Bertke shined in the first half by hitting 12-of-17 passes for 189 yards and three touchdowns. Pierron had 92 yards receiving at the half with Thobe adding another 73 receiving yards.
"Our game plan was to be aggressive with our passing attack," said Goodwin. "Adam hooked up with our receivers pretty well today.
"That was pretty much what I had in mind," continued Goodwin about the passing attack. "They're bigger up front, much more than we are. I really didn't want to run right at them, necessarily. I thought we had good matchups on the outside."
Ratliff was impressed with the Flyers' sophomore quarterback.
"I think he's going to be the real deal," said Ratliff. "Don't take anything away from (Heitkamp), but it's the quarterback who makes their offense go. You have the ability to throw the ball and run the ball - and he can run the ball well (Bertke carried the ball five times for 38 yards) - from the quarterback position, that's almost a triple threat."
The Bucks gained a little momentum to start the third quarter when the Flyers fumbled a punt and the Bucks' Ryan Wilfer recovered. Adam Paynter had a TD run from 17 yards out to make it 34-7.
It didn't take long for the Flyers to halt the Bucks' momentum as Marion Local executed a flea flicker to perfection as Bertke hooked up with Pierron for 48 yards and a score to make it 40-7. It was the third time that Bertke hit Pierron for a score.
From there, the game was well in hand for Marion Local. Buckeye Central got two more scores, Paynter rushed for his second touchdown of the day and Michael Adkins added another TD.
Marion Local got another defensive highlight when Trevor Homan stepped in front of an Erwin pass and returned it 85 yards for a touchdown, breaking the Division VI state title game record for longest interception return touchdown.
Bertke finished the day 14-of-19 for 278 yards and four touchdowns. Pierron had 140 yards receiving on six catches with Thobe adding 114 yards. Heitkamp rushed for 95 yards and two scores while Jacy Goettemoeller scored the final Flyers' touchdown in the fourth quarter with a 12-yard sprint to finish the game with 74 yards rushing.
Adkins had 120 yards rushing and Paynter tacked on 115 more while Erwin was held to 64 yards passing.