Monday, December 5th, 2011
Goodwin among Ohio's elite with five state titles
By Randy Bruns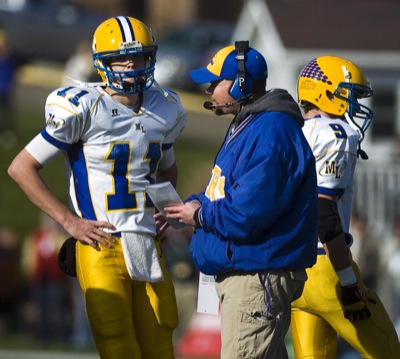 CANTON - Marion Local's football coach Tim Goodwin said it best a week before Saturday's Division VI state championship when he was asked about what it meant to get back to the state finals for the first time since 2007.
"It has been a while and a lot of people probably scoff at that because it has only been four years, but we wanted to go back so bad," said Goodwin. "Once you go, you just want to keep going because it is so much fun to go clear to the other side of the state and showcase what your kids can do."
For the fifth time in six tries, Goodwin's Flyers were victorious in their shot at bringing home the gold trophy, which puts the 40-year old coach in pretty elite company among Ohio high school football coaches.
Goodwin's fifth title ties him for fourth on the state's all-time list with former Cincinnati Moeller and later Notre Dame coach Gerry Faust. Just behind Goodwin is former St. Henry coach Tim Boeckman and current St. John's coach Todd Schulte with four titles apiece while former Versailles' coach Al Hetrick sits alone in third place with six championships.
Topping the list are Cleveland St. Ignatius' coach Chuck Kyle, who won his 11th title on Saturday night, and Newark Catholic's J. D. Graham, whose 1980's powerhouses won seven crowns.
When asked about being mentioned in such lofty company, Goodwin downplayed the issue.
"I don't think about that kind of stuff," stated Goodwin. "I just feel blessed to be in this position to have the type of kids and families that we have to work with and the coaches around me."
Indeed, Goodwin has a capable squad of assistants who have been a key part of Marion's success.
Dan Koenig, who is also Marion's Athletic Director, has been with Goodwin the longest, starting with the varsity squad in 2001.
"Dan is our worker bee behind the scenes," said Goodwin. "He spends a lot of time preparing scouting reports and watching film. I'd have to think seriously about whether I'd want to keep doing this without somebody like Dan who's willing to do all that."
Former Marion standouts and college football players Kevin Otte (Wilmington) and Greg Bruns (Bluffton) each have something different to offer to Goodwin.
"Their college experience is very valuable to us," said Goodwin. "Greg is the fiery, emotional guy that can relate to a certain portion of the team in a way I can't, and Kevin is more of the analytical type who gives us what I call the 'Otte touch' because his whole family (many of whom played for Goodwin) is very meticulous in everything they do."
New to the staff this season is Bradley Luthman, who starred at Versailles while playing against Goodwin-coached teams and later gained experience while working with the University of Toledo football program.
"He's a student of the game and he's given us some good ideas," said Goodwin of Luthman. "It's nice to have an infusion of new ideas that we can incorporate what we do as a core."
Jason Scheer, who played under legendary St. Marys' coach Skip Baughman, joined Goodwin a few years ago and is instrumental in helping with the Flyers' offseason weights and conditioning programs.
Finally, Goodwin gets gameday help from his mentor and father Bill Goodwin, who is a member of the Ohio High School Football Coaches Association Hall of Fame for his accomplishments at Allen East.
The elder Goodwin had an inkling a long time ago that his son may have a future in coaching.
"Tim has always had an interest in football," said Bill Goodwin. "Even before he was in high school he was always drawing up plays on tablets. In fact, when he was a manager and only about six or seven years old he came up and pulled on my pant leg and I didn't know what he wanted. I looked down and he said 'Hey Dad, run the bootleg!' we did and it worked."
The younger Goodwin has come a long way since then but he has tried to make sure he keeps things in perspective.
"If you coach just to try to win championships it's got to be an empty feeling the next day because it all goes away and you're dealing with life just like you were before that," summed up Goodwin. "You've got to be coaching for the right reasons or else it's all just very empty. It's not like I'm going to get a $250,000 bonus and a trip to Hawaii for this. You just have to enjoy the process of working with the kids and the camaraderie of being with the coaches. That's what makes coaching football so much fun."