Friday, January 6th, 2012
Kanney's three-pointers lift Cavs past Panthers
By Gary R. Rasberry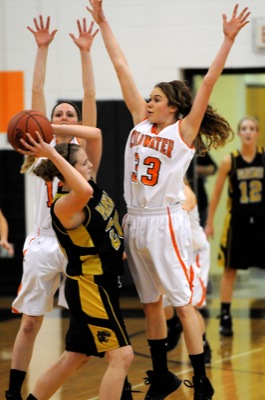 COLDWATER - The old adage about a tough shooting night that goes "Can't throw it in the ocean while standing on the beach" certainly could describe Thursday's Midwest Athletic Conference matchup between the girls from Parkway and Coldwater.
The teams combined for 115 shot attempts in the game and hit just 33, but the Cavaliers drained some big three-pointers to snap the Panthers' four-game winning streak with a 52-38 triumph at The Palace.
Coldwater (6-2) maintains its unbeaten conference mark at 3-0.
To say the teams struggled with their shooting would be an understatement. Coldwater was 19-of-70 from the field in the contest, for a percentage of 27.1 percent. Parkway fared slightly better, shooting 14-of-45 (31.1 percent).
"If you've seen our cumulatives (season shooting numbers), we're shooting around 30 percent (29.9 percent coming into the game)," said Coldwater's coach Nick Fisher. "I told the girls it's a belief factor. We work our butts off in practice. Kids play hard. We have to start believing in ourselves a little bit."
With the misses, came rebounds. The Cavaliers had 22 offensive rebounds in the contest and outboarded the Panthers by a 50-38 margin.
"I was impressed with our offensive boards," said Fisher. "I thought we did a good job of that tonight. Carly Schlater had a ton of them (five offensive rebounds) in the first half. That's a positive."
"It's one of the things keeping us from getting to the next level," said Parkway's coach Jeff Kallas about rebounding. "Coldwater wanted the ball. If you count up the loose balls, they got 95 percent of them. When that ball was loose, they were on it. Nobody got that ball. We were very apprehensive when it came to that."
The two big differences that gave the Cavaliers the nod was defense and three-point shooting. Coldwater worked hard on its full-court pressure and contained Panthers' leading scorer Becca Harshman, who was coming off a school-record 41 points on Tuesday. Harshman did score 16 points on the night, but she was harassed all night long while bringing the ball up the court against the Cavs' press.
"I think our pressure started wearing on them a little bit," said Fisher. "Especially Harshman. She's a nice player. She puts her head down and goes hard to the hole. We had a number of people running at her tonight."
"My main concern, watching them and watching tape, was their defensive pressure," said Kallas, whose team committed 27 turnovers. "They put on a lot of pressure, they fly around the court and rotate quickly. If you make a mistake, they're on it. We didn't handle their defensive pressure."
The Cavaliers actually had a slightly better shooting percentage from three-point range (9-of-31 for 29 percent) than from inside the arc (10-of-39 for 25.6 percent). The prime contributor was freshman standout Sarah Kanney, whose NBA-distance three-pointers in the first half allowed the Cavaliers to get out to the lead. The Cavs maintained a cushion of 8-15 points throughout the game.
"We knew they could get on fire," said Kallas. "There were times we didn't get a hand in the face. ... (Kanney) shot the ball really well."
Kanney was 5-of-11 from beyond the three-point arc en route to a 19-point game while Janae Muhlenkamp added eight points.
Haley Roehm and Haley Burtch each added eight points in addition to Harshman's team-high of 16 points.
Coldwater travels to Herr Gymnasium in Lima to face Lima Central Catholic on Saturday while Parkway will look to rebound next Thursday as Minster comes to Rockford.