Tuesday, January 10th, 2012
Coldwater swears in new mayor
By Betty Lawrence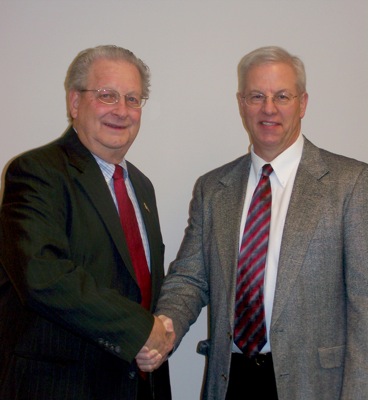 COLDWATER - A changing of the guard highlighted Monday's council meeting when Joe Knapschaefer was sworn in as the new mayor.
Vern Stammen announced earlier this year he would not seek a fourth term as mayor and endorsed councilman Knapschaefer for the position. He subsequently was elected to seat by voters in November.
Following a lengthy executive session, council appointed Ralph Schwieterman, a longtime Coldwater building contractor, to fill Knapschaefer's vacant Northwest Ward council seat.
Another new face on the councilor podium is that of Richard Branch, who was elected by voters in November to represent the at-large seat. He replaces retiring councilman Rob Fisher, who chose not to run.
Fisher was presented with an appreciation plaque and key to the city by Stammen in recognition of his work with the village over the past 20 years.
"I've enjoyed my 20 years working for the community. We've had ups and downs, but always came through. Adios," Fisher said.
Councilor Doug Bertke again was elected council president.
In his final report, Stammen noted he has enjoyed the experiences and fellowship of every person he served with over his years of service with the village.
"We had just became a charter village government and and lost New Idea and Buckeye and things looked a bit hectic, but with everyone working together, we feel very safe and financially secure," Stammen said. "My motto was and still is, 'We care, we share. By working together we can do great things.' "
In other action, councilors accepted a bid for $15,000 from Wellman Brothers for joint sealing of the village swimming pool.
"We've been sealing the pool ourself for 20 years, and it's time to get it done professionally. We've been losing too much water," village manager/engineer Eric Thomas said.
In Thomas' written report of 2012 goals, he highlighted major construction projects consisting of continuation with the water meter replacement and Hardin Ditch project, street repair and implementation of a program to line sanitary manholes and mains.
Several residents leaving a village board or department were presented awards for their years of service. They are: Robert Miller, who served with the village's parks department for 30 years; Theresa Brunet for service as a member of the park board; Dave Homan for service as a member of the Coldwater Planning Commission; Dean Schaller and Charles Froning for their service on the zoning board of appeals; Larry Wolf for service on the tree commission; Tom Homan Jr. for service on the regional planning commission; and Ted Braun and Aric Rutschilling for their service on the fire department.
Councilors slated a finance committee meeting for 5:30 p.m. Jan. 16 at the municipal center.