Wednesday, January 11th, 2012
Cards can't contain Richard
By Gary R. Rasberry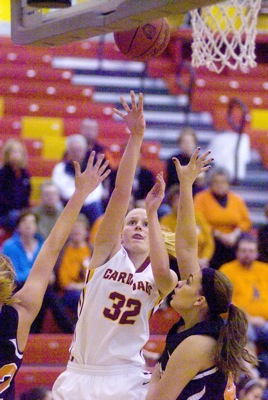 NEW BREMEN - Despite a solid showing in front of the home crowd, New Bremen's girls basketball team was unable to overcome the play of Jackson Center's Brooke Richard.
Richard scored 31 and the Tigers held off the Cardinals 53-43 in non-conference action at Cardinal Gymnasium on Tuesday night.
Richard, the Shelby County League's top scorer at 23 points per game, was the one factor that the Cardinals could not contain.
"She did whatever she wanted to do," said New Bremen's coach Randy Eckert. "We didn't play good defense on her as a team. We should have had more help-side defense. She just drove to the basket and we didn't rotate over to help. Anybody could have made those shots driving to the basket."
The first quarter was a struggle for the Cardinals (4-7) as the Tigers roared out to a 10-2 lead just three minutes into the game. The Cardinals, hounded by cold shooting and turnovers, cut the deficit to 10-6 before a 7-2 Tigers' run had Jackson Center in front 17-8 after eight minutes.
The Cardinals played nearly even with the Tigers over the final three quarters of play as Jackson Center held a slim 36-35 advantage.
"We've had trouble in the past of letting up on defense," said Tigers' coach Makaine Huffer. "That's something we have to realize (that) we can't do."
"We came out slow, which seems to be our trait," said Eckert. "We dig ourselves a little hole and have to fight back. Overall, I was pleased with how we played, but I know we can play better."
The Tigers also relied on some early offensive rebounds to pad their lead. Jackson Center had 12 offensive boards - out of 29 total rebounds - in the contest. The Cardinals also made just 7-of-14 free throws and turned the ball over 19 times.
Jackson Center took advantage of its trips to the charity stripe, converting 11-of-13.
One big bright spot for New Bremen was sophomore Julie Brown, who scored 11 points and pulled down 17 rebounds.
Kyla Otting led the Cardinals with 18 points, 12 of which came in the fourth quarter.
The Cardinals will look to rebound on Thursday, hosting neighbor New Knoxville in Midwest Athletic Conference action.