Friday, January 13th, 2012
Man dies in pond tragedy
Officials say weather a factor in early morning accident south of Celina
By Margie Wuebker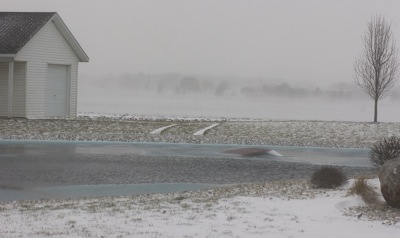 A Coldwater man, reportedly en route to a dialysis treatment, died early today after he drove off Fleetfoot Road and into a nearby pond in the midst of a winter storm.
Danny L. Boise, 61, 911 N. Seventh St., Apt. 15, was found dead about 8 a.m. after nearby property owners Rick and Suzanne Murlin saw his body lying near a storage building at 5159 Brown Road. The area is between Fleetfoot and Meyer Road southwest of Celina.
Mercer County Sheriff Jeff Grey said investigators believe Boise drove his car off the road during near white-out conditions and traveled through a large farm field in an effort to return to the road. He apparently did not see the pond.
After getting out of the car, investigators believe Boise climbed up the pond's rocky bank as the car sank in 5 to 6 feet of water, leaving only the roof visible. He apparently collapsed near the building and was pronounced dead at the scene.
"He was wet and cold and trying to get help," Grey said this morning. "Given the wind chill, it would not have taken long to be overcome."
Wind with gusts of up to 40 miles per hour whipped fallen snow creating hazardous roadways and delaying the start of morning classes throughout the area. The wind chill index fell into single digits overnight.
Family members of Boise contacted the sheriff's office at 7:29 a.m. after learning he had not arrived for a scheduled 5 a.m. dialysis treatment in Celina. Deputies and Coldwater Police officers were checking on his whereabouts when the 7:52 a.m. call came in from a property owner who reported seeing a body near the building.
Grey was not able to pinpoint the time of the mishap but believes it occurred before 5 a.m. as Boise always arrived early for his treatment.
Arrangements were being made to remove the vehicle from the pond, Grey said. Family members told officials Boise was traveling alone.
Mercer County Coroner Timothy Heinrichs released the body to Hogenkamp Funeral Home in Coldwater.
Deputies were assisted at the scene by Celina Emergency Medical Services and Coldwater Police.