Saturday, January 14th, 2012
Balance keys Indians' victory over Cavaliers
By Tom Montgomery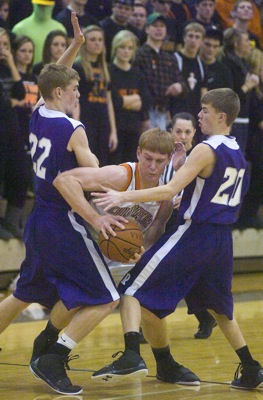 COLDWATER - Looking every bit like one of the state's elite, the Fort Recovery Indians massacred the host Coldwater Cavaliers 61-34 on Friday night at The Palace.
Three-pointers helped Coldwater keep the score somewhat respectable until they suddenly stopped falling, and the Indians' uprising was complete.
"They're a good team, aren't they?" said Coldwater's coach Mike Bruns. "It's hard to beat a team when you shoot like they did. The firepower of their arsenal was awesome. They had balance inside and out. They hit from everywhere."
Fort Recovery hit 7-of-9 from three-point range and connected on 26-of-47 overall (55.3 percent). Wade Gelhaus (18 points), Elijah Kahlig (15 points), Jared Kahlig (13 points) and Jason Pottkotter (12 points) all hit for doubles figures.
After getting the opening tip and missing their first three shots, the Indians found their touch. Three-pointers by Elijah Kahlig and Wade Gelhaus, interspersed with field goals by Jared Kahlig and Jason Pottkotter, staked the visitors to a 10-0 lead from which they never looked back.
Coldwater's Brandon Wolters hit a three-pointer to make it 10-3 and five quick points by Alex Bruggeman brought the hosts to within six points at 14-8. Jared Kahlig managed to dribble out the remaining 34 seconds before going to the basket to hit a short jumper to put his team up 16-8 after one quarter of play.
The second quarter saw the visitors extend their lead to 22-10 before Coldwater's Austin Bruns hit the game's first free throw at the 3:41 mark. Bruns followed with a trey and a deuce to make it 29-18.
Gelhaus then stole the ball under the basket and went coast-to-coast before tomahawking a thundering two-handed dunk that brought fans of both teams to their feet as the Indians went on top 31-18. A three by Coldwater's Kyle Post was answered quickly by Fort Recovery's Kent Retz, and the teams went to the locker room with the hosts trailing 34-21.
After hitting 4-of-9 three-pointers in the first half, the Cavaliers went 0-for-9 from long range in the final two periods, eliminating any realistic chance of an upset.
The teams played almost even in the third period, with the Indians eking out two more points than the hosts to pad their lead. The fourth period was all Fort Recovery, as it outscored the hosts 15-3.
"We played pretty well," said Patch. "We have a big weekend coming up with the Flying to the Hoop event. It's a prestigious event and we were honored to be asked. But we concentrated on this game and it came out OK."
"They definitely deserved to win," said Cavaliers' coach Bruns. "They just beat you so many ways. They've got the firepower to go a long way."
Coldwater has the weekend off before hosting Versailles next Friday night. Fort Recovery travels to Kettering for the Flyin' to the Hoop event, where the Indians will face Division I state-ranked Walnut Ridge today at 1:15 p.m.