Thursday, January 19th, 2012
Whole lake to get alum treatment
State, local officials set goals to avoid 2012 water advisories
By Nancy Allen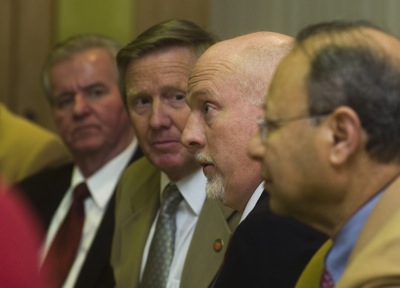 GRAND LAKE - All of Grand Lake will be treated with alum in April, as long as the funding is secured.
"We already have allocated $1.5 million and hope in the next couple of weeks to make an announcement on the rest," Ohio EPA Director Scott Nally said during a summit Wednesday. "We're trying to scratch and find money where we can."
Nally and several other top state officials met with local officials for a Partnership Progress Summit at Wright State University-Lake Campus to discuss ways to fight the lake's toxic algae problem. One of the goals that came out of the summit was having no water quality advisories placed on the lake this year.
"The takeaway from this is we're going to try to get out earlier and do the whole lake," Nally said.
The state paid for a $3.4 million aluminum sulfate (alum) treatment of the center of the lake last year, which reduced phosphorous levels by 56 percent in the center and 20-30 percent in untreated areas. Alum deactivates phosphorous, algae's main food source. Most of the phosphorous that enters the 13,500-acre lake runs off farmland in the 58,000-acre watershed.
The lake was treated June 2-30, a warmer month when algae concentrations already were up. The project was scaled back from a $5 million whole-lake treatment to avoid a massive fish kill that could have occurred due to the lake already having low dissolved oxygen levels.
Nally said the state hopes to duplicate in Lake Erie actions being done on Grand Lake, which has had severe algae blooms in its western basin in recent years. Blue-green algae, or cyanobacteria, has become a worldwide problem impairing water sources, destroying tourism and at times sickening animals and humans.
Another goal from the summit was forming a group of state and local officials to develop a management strategy for the lake's water level. The lake level has been a hot topic since three lawsuits were won by property owners who blame the lake's water level and the West Bank spillway for increased flooding on their properties.
"The operation of the spillway gates (to lower the lake level) is one of the directors' priorities," Glen Cobb, deputy director of recreation and resource management, said. "We want a balanced view both above and below the spillway."
Ohio Department of Natural Resources Director Jim Zehringer of Fort Recovery said there is no way to completely eliminate flooding associated with the lake, but the state will try to make it better.
"We want to make sure all know the consequences involved," he said.
Zehringer said the state is working with attorneys for 85 landowners, who together filed and won a lawsuit over flooding, to determine how the already cash-strapped state will pay for damages. The court agreed with landowners that the spillway opened in 1997 increased flooding on their land.
"We intend to fulfill our legal obligations," Cobb said.
Other 2012 goals announced by Lake Restoration Commission facilitator Tom Knapke following a closed door meeting with state directors include hiring a manager for the LRC, a volunteer group formed two years ago to restore the lake; continuing to monitor the lake and tributaries for phosphorous; replacing lost wetlands; and continuing to work with farmers. Saugeye stocking was not on the list of goals this year as LRC officials had hoped, but the matter will be discussed with state wildlife officials, LRC member Julie Miller said.
Zehringer lauded the state for quadrupling the amount (270,000 cubic yards) of dredge material removed from the lake last year and farmers for starting the Ag Solutions group, which is searching for ways to lessen phosphorous runoff. Phosphorous is found in manure and many fertilizers.
LRC officials also held a focus group discussion with about 50 lake stakeholders on how to market the lake after three summers of water quality advisories.
Suggestions included reaching outside the local area, utilizing radio to reach busy farmers, encouraging local newspaper media to place more lake stories online, better publicizing what the agriculture community is doing to help the lake's condition, highlighting other area attractions such as walking/bicycling paths and festivals, expand ing last year's successful carp fishing tournament, creating new events such as kayak races or a triathlon, keeping pressure on elected officials so they don't lose sight of the lake's issues and partnering with farmers and other ag officials on helping the lake so it is a win/win for lake and ag interests.
Different catch phrases tossed around in the group included "Go jump in the lake, we're open," and "The lake is coming back, so should you."
State officials hammered away at the importance of cooperation, partnerships and civility in changing the condition of the lake.
"We want to make sure this crown jewel of lakes in Ohio and tourism improves," Zehringer said.

Lake Campus will begin water research institute:
Wright State University-Lake Campus officials plan to start a water research institute this spring or summer.
Julie Miller, director of the Lake Campus' Business Enterprise Center, said the institute would serve as a magnet for research and innovation into toxic algae and finding technologies and products to combat it.
Lake Campus officials are developing a formal business plan, which would include a timeline for execution, funding sources, how people can become involved and when and how students might get involved in the institute.
"We're looking to attract other researchers here to share their knowledge and give them a place to work and access to equipment and technology," Miller said. "We also may add a student component for graduate and undergraduate research."
Miller said the institute would be a place for entrepreneurs and businesses to conduct research and studies. They also could be put in contact with state and local economic development officials, scientists, faculty and private banks, she said.
"A lot of private sector vendors don't have access to these things to see if their products work, the credentialing and other stuff that goes toward commercialization of products," Miller said. "One of the goals of the college is to get out there and do that."
- Nancy Allen