Wednesday, January 25th, 2012
Fort Recovery benefactor, military pilot dies at 94
By Margie Wuebker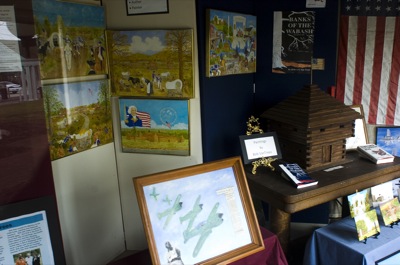 FORT RECOVERY - Robert "Bob" Van Trees, a Fort Recovery native who traveled the world but never lost pride in the community he once called home, died Monday morning - one day after his 94th birthday - at Hospice of Dayton.
"Bob was always thinking and talking about ways to promote the rich heritage of this community," village administrator Randy Diller said. "He was a very generous person."
Nancy Knapke, director of the Fort Recovery State Museum, called Van Trees "the best friend our museum ever had."
She fondly remembers his final visit in late November or early December. He drove alone from his Fairborn home to admire the artwork of English painter Peter Dennis that had been added to the local display.
"He spent quality time here that day and thoroughly enjoyed the display," she said. "Bob was a man filled with energy, memories and stories ... he could have you laughing one minute and sitting on the edge of your seat the next."
Both she and Jim Zehringer, a Fort Recovery resident currently serving as director of the Ohio Department of Natural Resources, recall one of his often-told stories - the day decades ago when he buzzed the former Fort Recovery creamery owned and operated by his father.
A military pilot who shuffled planes from one base to another, Van Trees flew low over the community and dropped a note attached to a bolt he had picked up earlier on the runway. The simple message read "What's cooking, pappy?" The feat not only resulted in a Fort Recovery Journal news story but a subsequent "dressing down" by commanding officer Barry Goldwater at Wright Patterson Air Force Base.
"Bob retired from the Air Force as a major after more than 20 years of service, but that little stunt over Fort Recovery cost him a promotion," Zehringer said. "He never regretted his actions."
During one of his military flights, Van Trees shared the cockpit with an officer who inquired where he was from. The pilot quickly responded "A small place in Ohio you have probably never heard of - Fort Recovery."
The officer - Donald Blue Jacket - responded he knew the place because his Indian ancestors had made history there. Years later Van Trees encountered the man's relatives in Oklahoma while doing research on Blue Jacket's true ancestry. Van Tree's research, which determined the Shawnee war chief was indeed of Indian descent and not white man Marmaduke "Duke" Van Swearingen, led to the reprinting of the Blue Jacket book.
"It was Bob's passion for history and a desire to correct an error that led to the discovery," Zehringer added.
Van Trees' patriotic endeavors included financing a trip for Fort Recovery-area veterans from the World War II, Korean and Vietnam era to Washington, D.C. Zehringer accompanied the 30-member delegation. Van Trees parked his distinctive yellow Buick along Interstate 70 to watch the bus pass.
"Everybody waved and cheered for him as the bus went by," Zehringer added with a chuckle. "I don't really think authorities would approve something like that but you had to know Bob to appreciate the gesture."
Van Trees and his wife Marge, who survives, are credited with a donation that made possible the creation of Van Trees Park in Fort Recovery. It debuted in 1991 as part of the village's bicentennial observance.
"Without Bob, the community would have gotten a park eventually, but he made it happen as part of the bicentennial," Knapke said.
The park is located at the former creamery site.
An accomplished painter with 500 canvases to his credit, Van Trees always donated one to the annual One of a Kind Auction benefitting the museum. His most recent donation in October was artwork entitled "Night Before the Attack," bearing his trademark jet stream in the corner. Local businessman Ivan Kaffenbarger submitted the winning bid to add the work to his personal collection.
"My dad was an Air Force guy who flew C46s and C47s, and Bob painted a couple pictures for me as a remembrance," he said.
Van Trees, who retired in 1982 as executive representative of Cubic Corp., based out of San Diego, Calif., also proved to be a prolific author. Two of his five books -"Banks of the Wabash" and "Sometimes the Dragon Wins" - spotlight the history of Fort Recovery.
Knapke sat down some years ago and interviewed Van Trees prior to the dedication of a walk-up display across from the museum as a tribute to the longtime benefactor. While she took copious notes, she wishes the three-hour session had been taped for posterity.
"Bob may have lived and worked all over the world, but there is no doubt his heart belonged to Fort Recovery," she said.
At his request, private funeral services will be held with burial to follow at Fairfield Cemetery in Fairborn, adjacent to Wright-Patterson. His obituary appears in today's paper.