Monday, January 30th, 2012
County residents may begin casting ballots
By William Kincaid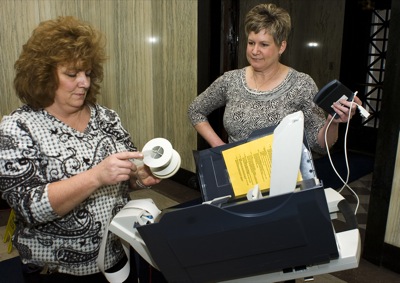 CELINA - Registered voters in Mercer County can begin early voting for the March 6 primary election through absentee ballot starting Tuesday.
Ohio registered voters do not have to state a reason why they are voting absentee.
Voters must fill out an application for an absentee ballot, regardless if they completed one in the past. Applications are available at the board of elections office or on the office website.
An absentee ballot can be cast at the board of elections office, taken home and returned later or can be mailed to a voter and mailed back to the office.
All voter requests for an absentee ballot to be sent in the mail must be made on or before March 3, according to deputy director Laura Bruns.
Absentee voting at the board of election office will occur from Tuesday to March 2. Voting can be done 8:30 a.m.-5 p.m. Mondays and 8:30 a.m.-4 p.m. Tuesdays through Fridays. Office hours will be extended to 6 p.m. March 2.
The controversial five-day period in which Ohioans can register to vote and immediately cast an absentee ballot for the primary election begins this week. Early voting begins Tuesday, and Ohioans can register to vote until Feb. 6.
An attempt to end Golden Week under the argument that it might lead to voter fraud has been mired in the much broader fight over House Bill 194, the election-overhaul law that will be subject to a referendum on the November general election ballot.
Despite the uncertainty over House Bill 194, Secretary of State Jon Husted said voters will never have an easier time voting than in this year's general election.
"I will be sending out absentee ballot requests to every registered voter in this state (for the November election), and all they need to do is fill that response card out (and) send it back to the board of elections," he said. "The board will then send them their ballot. They can vote, stick it back in the mailbox … and cast their ballot without ever leaving their home.
"We cannot make it any easier than that," Husted said. "It is a simple process for voters to vote. Literally, you can vote from your kitchen table. We just call it a voting machine on every kitchen table."
Ohio does not have a true open primary election. Voters may pick the party primary election in which they want to cast ballots, either at the polling place on Election Day or when requesting an absentee ballot. Voters will be asked to sign statements aligning themselves with the principles of that party. Those voters will be considered to be members of that party until they take affirmative steps to change affiliation, possibly at a future primary election.