Tuesday, January 31st, 2012
On target
Philothea man is world bowhunting champ
By Margie Wuebker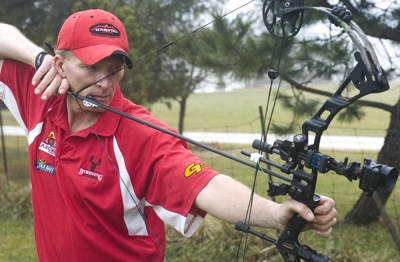 PHILOTHEA - Dave Schmackers remembers as a child whacking a branch from his parents' apple tree and using twine string to fashion a bow.
Homemade bows are a thing of the past for Schmackers, who has been named the International Bowhunting Organization's world indoor champion. He now favors a compound bow with electronic cables to hone in on the target.
"As a kid I watched a neighbor man shoot a bow," he said. "Then I would cut off a branch, add some twine string and shoot at bales for hours hoping to become as good as him. I never lost that childhood interest ... my equipment just got better."
The latest accolades came earlier this month during a competition at the I-X Center in Cleveland. Nasty weather and slick roads nearly caused him to forego the event, but fellow shooter Zack Mull of Spencerville encouraged him to participate as planned.
"My goal was to shoot my best, and God was with me," Schmackers said.
The course included a series of stationary 3D targets that included a lion, sheep, several kinds of deer, beaver and antelope. Each realistic-looking animal contained three targets or kill spots that yield points based on size and location.
"I reached the final station and there was a hyena," he said. "My heart sank because I never do well with hyenas."
Fellow bowhunters, who had been keeping track of his scores, offered words of encouragement knowing a good hit at the final station would clinch the world title, trophy and check.
"It was hard putting all of that out of my mind as I stepped into the box," Schmackers said. "I had two minutes to make my shot."
He tuned out well-wishers, hundreds of other shooters and even the guy taking aim in the next box. He knew if his mind wandered, so would the arrow. He released. It flew at a speed of 325 feet per second. Confirmation of the win came the following day via computer.
"You train your mind to block out everything but the target at hand, and you train your body to relax," he said. "It comes through consistent practice and a lot of prayer."
Schmackers, who describes himself as a deer hunting fanatic from way back, initially took part in local shoots in Fort Recovery, Sidney, Lima and Portland, Ind. Three years ago he headed to bigger competitions.
"I went to Nelsonville and did OK," he said. "Then it was on to places like Bedford, Ind., and Erie, Pa., and I also did well."
He took second-place national honors in the International Bowhunting Organization's Triple Crown series a year ago, finishing just one point behind the champion.
Schmackers, a driver for John Cheeseman Trucking of Fort Recovery, practices regularly on the indoor range at Niekamp Farm and Flea Market. The case containing his bow and a complement of arrows also accompanies him on the road. Vacant lots at some destinations serve as practice fields.
"I shoot every day even if it's with the bales stacked in my garage," he said. "My goal is to maintain muscle memory because shooting a bow is all about keeping the proper form and not just shooting dots."
The father of three chuckles recalling one faux pas involving a loaded bow inside the house. He accidentally let the arrow fly while taking aim and it scored a direct hit on a chair. His wife Alexa was not pleased.
Physical fitness also plays an important role in preparing for competitions. A consistent routine at the gym has helped him achieve an athlete's lean, muscled frame.
As a representative for several nationally known archery companies, he is knowledgeable about the pros and cons of his equipment. He said archery enthusiasts are a brotherhood of sorts that knows no geographical boundaries. In fact, he sold one of his unneeded bows to a man in Australia.
"I have so many people to thank for my accomplishments - God, the old man who mesmerized me as a child, my dad (Jim Schmackers) who took me hunting and so many others," he said. "God gave me the talent and left it up to me to use."