Friday, February 3rd, 2012
Flyers remain unbeaten in MAC
By Randy Bruns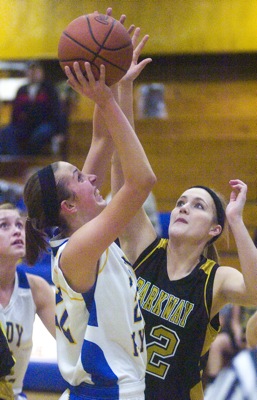 MARIA STEIN - The Marion Local Flyers gave their veteran leaders a memorable Senior Night on Thursday at The Hangar.
All five seniors started and scored, and the Flyers ran away with a 71-37 victory over the Parkway Panthers in a Midwest Athletic Conference tilt.
Marion improves to 13-3 overall and its 7-0 league record keeps the Flyers one-game ahead of second-place Fort Recovery with two league games yet to play. Parkway falls to 6-11 on the year and 0-7 in MAC play.
The Flyers fell behind 6-2 early on, but senior Margaret Wuebker quickly scored five straight points to put her team ahead. The hosts could not build much of a lead, though, and the Panthers came back to knot the score at 14-all on a three-pointer by Megan Fisher late in the opening quarter.
As well as things went for the visitors in the first quarter, it all went awry in a hurry during the second quarter. Keyed by three straight baskets from Allie Thobe, the Flyers put up 13 unanswered points to take a commanding 27-14 advantage.
Parkway hung tough and trailed by only 14 midway through the third quarter, but another Marion run was just around the corner. This time the hosts used their transition game for easy hoops to put together a 19-3 run that built their bulge to 30 points before the fourth quarter began.
"One of my big concerns was their height and the way they hit the boards," commented Parkway's coach Jeff Kallas. "They are so aggressive and we're not, and they got almost every loose ball. They dominated the offensive boards, which just killed us."
Indeed, the Flyers controlled the glass on both ends of the court, grabbing 45 total rebounds to just 26 for the Panthers, with 16 on the offensive end compared to just seven for the visitors.
"I thought overall we played very well," stated Marion's coach Treva Fortkamp. "I was glad the seniors could go out with a bang and they all got the opportunity to score. It's getting to be crunch time with the tournament draw on Sunday and we need to start gelling together and hopefully that's happening. We'll find out next week because we've got two tough games coming up."
Chelsea Winner led all scorers with 15 points while Thobe tossed in 11 points with Wuebker tallying 11 points and 11 rebounds.
Cami Hellwarth paced the Panthers with 10 points.
The Flyers' senior class, comprised of Wuebker, Ashley Wilker, Leah Puthoff, Darian Bergman and Megan Seitz will always occupy a special place in their coach's heart.
"We've got such good leadership on this team," said Fortkamp of the seniors. "I yell and scream and I'm critical of them, but I love them all. This is a stepping stone in their lives and if they're able to come here every day and put up with me, when they get in the real world they'll have a lot easier boss to deal with."
Parkway gets a week to rest up before Delphos St. John's comes to Rockford next Thursday while Marion has two games next week. First the Flyers travel to Lima on Tuesday to take on the Shawnee Indians but the big showdown will take place on Thursday at the Fort Site Fieldhouse with the Fort Recovery Indians, as first place in the MAC will be on the line.