Wednesday, February 1st, 2012
Catholic leaders decry health care requirement
By William Kincaid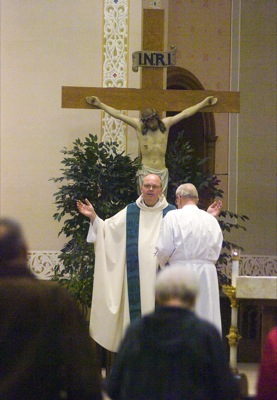 Local Catholic priests are championing a letter from Archbishop Dennis Schnurr of Cincinnati that denounces a federal mandate forcing most employers to cover health services deemed immoral by the church.
The new healthcare ruling, announced recently by President Barack Obama, requires most church-affiliated institutions to offer insurance that covers sterilization, abortion-inducing drugs and contraception. Houses of worship are exempt from the ruling.
Archbishop Dennis Schnurr of Cincinnati wrote a letter to area Catholics, placed in many church bulletins Sunday, saying the ruling denies Catholics' First Amendment right of religious liberty and would force them to violate their consciences or drop health coverage and face a penalty.
"We cannot - we will not - comply with this unjust law," Schnurr wrote. "People of faith cannot be made second-class citizens. We are already jointed by our brothers and sisters of all faiths and many others of good will in this important effort to regain our religious freedom."
The Rev. Rick Walling of Holy Trinity Catholic Church in Coldwater said he believes everyone should have access to health care but opposes any mandate leading to immoral practices. He supports the archbishop's statement.
"It's pretty strong language," he said, adding he hasn't seen such powerful language since the Roe v. Wade decision in the 1970s.
The Rev. Thomas Dorn of Mary Help of Christians Catholic Church in Fort Recovery and the Rev. Anthony Cutcher of Holy Rosary Church in St. Marys also said they oppose the mandate.
"The HHS mandate is that which you would expect from Communist China, but not from the United States government," Dorn said. "In this country, there is a separation of church and state to protect religion from the tyranny of the government. Therefore, the government should not attempt to force its citizens to violate their consciences, especially in matters firmly rooted in natural law and Judeo-Christian morality, as are the church teachings on contraception, sterilization and birth control pills, which can directly cause chemical abortions."
Cutcher said the government is trying to regulate just what parts of religious freedoms are truly free.
"As I said to my parish this past weekend, after reading all the rhetoric, all the history, I cannot shake the feeling that this has been done before - a little law here, a big mandate there - aimed at a particular group of people," he said. "Yes, it has been done before - just before the second World War in Germany. Thank God we have a court system to stop them, I hope."
The Rev. Kenneth Schnipke of Immaculate Conception Catholic Church in Celina said some of his parishioners were very disturbed to learn of the ruling.
"We profess that life begins at conception and that life is a gift from God," Schnipke said.
Schnipke advises Catholics to visit the United States Conference of Catholic Bishops website, where they can learn about the Respect for Rights of Conscience Act, one supported by U.S. Congressman Bob Latta, R-Bowling Green.
The new ruling applies to all employers, effective in August. Nonprofit institutions such as church-affiliated hospitals, colleges and social service agencies have until August 2013 to comply, according to Health and Human Services Secretary Kathleen Sebelius.
Immaculate Conception School in Celina, which gets its health insurance through the Archdiocese of Cincinnati, likely will be affected, principal Polly Muhlenkamp said.
"We are very seriously concerned about this particular (mandate) from the government," she said. "We think it is an infringement on our right to (religious freedom) because it go against the teachings of the church."
Officials in Obama's administration have pointed out that the decision of whether and how to use birth control is up to individuals and their doctors.
"My response is that with this mandate, the HHS, headed by a so-called Catholic, has forced the other Catholics - you know, the ones who do follow the rules of the church, who do make the effort to use natural means of managing their fertility, the ones who wait until they are married to have sex ... They are the ones who are now being forced to violate their conscience by paying for these services so that the others may have free access to (the services)," Cutcher said.
Church officials are ready for a legal battle if the government doesn't reverse the requirement, Dan Andriacco, a spokesman for the Archdiocese of Cincinnati, said.
Several Catholic hospitals and colleges in southwestern Ohio also announced plans to lobby against the requirement.
Responses issued to the newspaper by Congressmen Jim Jordan, John Boehner and Bob Latta - all Republicans who represent portions of Mercer County - indicate the legislators are united in their opposition to the mandate.
Jordan said Catholic leaders have correctly pointed out the constitutional and moral problems of the federal takeover of the health care system.
"In an unprecedented move, the Obama Administration is trying to use the health care bill to force faithful Christians to endorse the taking of innocent human life," Jordan said. "Though every American should be outraged at the President's brazen move, there is still time for the public to make their voices heard. The defense of religious liberty has been at the core of our American culture since the very beginning. It is a timeless principle that is worth fighting for."