Friday, February 10th, 2012
Flyers capture MAC title
By Randy Bruns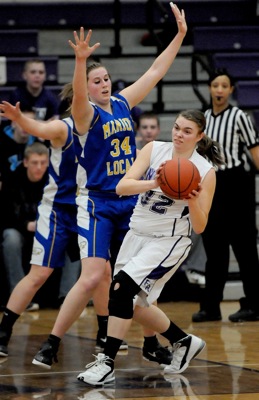 FORT RECOVERY - The Marion Local Flyers overcame a litany of first-half miscues on Thursday night to wrap up their second outright Midwest Athletic Conference championship in the past three years.
The Flyers committed 13 turnovers and allowed the Fort Recovery Indians to snare 10 offensive rebounds in the first two quarters, but a stout defensive effort by the Flyers keyed a 55-41 victory at the Fort Site Fieldhouse.
Marion moves its season mark to 15-3 and its 8-0 MAC ledger has the Flyers two games ahead of the rest of the league foes with one game to play. That means the Flyers will win the conference crown no matter what happens in next week's league finale. Fort Recovery drops to 14-4 on the year and 6-2 in conference play.
This one was not an aesthetic thing of beauty by any means, but when these two teams get together it's typically an all-out brawl. The first half had six ties and seven lead changes as neither team could forge ahead by more than four points. A late stickback by Margaret Wuebker broke the last tie and put the Flyers ahead 27-25 heading into halftime.
Marion put together a seven-point run to begin the third quarter, and though Ericka Lennartz scored two quick buckets to keep Fort Recovery close, those four points were all the hosts would muster in the period. The Flyers put together another mini-run to end the frame and they held a 13-point bulge entering the fourth quarter.
The Flyers' advantage ballooned to 18 points early in the fourth but the Indians did not go down without a fight. Kylie Kahlig scored on a stickback and tossed in a three-pointer before Chelsea Pottkotter followed with a trey of her own to get the visitors within 10 points with just under three minutes remaining in the game, but it proved to be too little, too late. After making just 11 of their first 21 free throws, the Flyers nailed their final six to put the game away.
Marion's coach Treva Fortkamp, who with the win tallied her fourth career outright MAC title, pointed to her squad's defensive intensity as the key to the win.
"It was a very good halfcourt defensive effort," said Fortkamp. "It was sheer desire on the girls' part and they showed a lot of heart. Winning the MAC is always a goal of ours, but I didn't think (an outright title) was realistic because this league's too good. We just beat the crap out of each other every Thursday."
Fort Recovery's coach Doug Bihn saw his squad suffer through its worst shooting effort of the year as they were just 16-of-55 from the field.
"When you shoot 26 percent you aren't going to win many ball games," said Bihn. "We just couldn't make a shot. We were 2-for-19 from the three-point line (11 percent) and we've been shooting 30 percent from there during the season. If we make a couple of them it's a different ball game but it didn't happen tonight. (Marion is) a good team and a big team. They've got size and that's something you can't coach."
The Flyers put three players in double figures, with Wuebker leading the way with 15 points to go with 10 rebounds.
"I told Margaret at halftime that if she gets the ball in the low post she has one option," said Fortkamp, who told her senior leader to go to the hole. "I told her she needed to take over this game because we had them in a mismatch and in the third quarter she did."
Chelsea Winner added 12 points and Allie Thobe chipped in with 11. Kahlig paced the Indians with a game-high 18 points.
Marion will finish the regular season next week when it travels to St. Marys on Tuesday before hosting Coldwater on Thursday. Fort Recovery will entertain Celina on Tuesday and finish the regular season against St. John's on Thursday.