Wednesday, February 15th, 2012
Celina's hot shooting sinks Fort Recovery
By Ryan Hines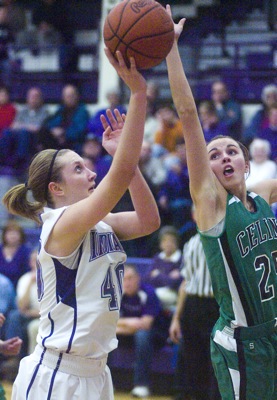 FORT RECOVERY - A quick start and a blistering shooting night from behind the three-point arc led Celina's girls' basketball team to a 54-43 victory over Fort Recovery on Tuesday night at Fort Site Fieldhouse.
Celina (15-4) led wire-to-wire against Fort Recovery (14-5) in a matchup between two of the better teams in the Grand Lake area.
The Bulldogs were up 6-5 in the first quarter before Beth Homan hit back-to-back buckets to ignite an 11-2 run that put Celina on top 17-7 at the end of the first eight minutes of action.
"I think that it's always important to get off to a good start, whether it's at home or on the road, but especially on the road," said Celina's head coach Brian Stetler. "I think we were able to knock down a couple of outside shots and it opened the floor for us. We found the open person and we hit them."
Fort Recovery's head coach Doug Bihn was disappointed in the Indians' defensive performance in the first quarter.
"We can't give up 17 points in a quarter and expect to compete with anybody," said Bihn. "We didn't do a good job defensively tonight. We didn't bring the defensive intensity tonight. We are making mistakes on defense that you just can't make 19 games into the season."
Olivia Schwieterman canned a three-pointer during an Indians' 7-0 spurt early in the second quarter to trim the Bulldogs' lead to 19-14, but Kylee Bader and Hillary Heiby connected on back-to-back three-pointers to help push Celina's advantage to 25-14.
The three-point shot sparked Celina again midway through the third quarter. After a beautiful driving layup by Heiby, Bader drilled a pair of trifectas that put the Bulldogs on top 43-28 with 2:38 remaining in the third quarter.
"I think that our girls were able to hit some big shots when they had to tonight," said Stetler. "We knew that we had to hit some shots from the perimeter because of the way that they were defending the post and we were able to do that. I'll take eight three-pointers any time."
After Fort Recovery went on a quick 6-0 spurt to trim its deficit to nine points, Bader again burned the Indians' defense from three-point range as she canned her fifth trey of the game to give Celina a 46-34 lead going into the fourth quarter.
"I was feeling it there in the third quarter and my teammates did a great job of finding me open a couple of times and I was able to knock it down," said Bader, who led all scorers in the game with 19 points. "Once I hit one, I started to feel pretty good and I kept getting good looks."
Bader was 5-of-8 on three-pointers while the Bulldogs finished the game 8-of-13 from three-point range (62 percent). Celina was 20-of-40 from the field overall.
"They shot 50 percent and we shot 36 percent from the field and that is pretty much the story line of the game," said Bihn. "We go 2-of-18 from three and they go 8-of-13. You will win a lot of games shooting as well as they did. Celina is a good team."
Kelly Nietfeld scored nine points in the fourth quarter as the Indians pulled to as close as nine points, but Bader and Homan scored four points apiece in the final stanza and the Bulldogs walked away with an 11-point victory.
Nietfeld led Fort Recovery with 17 points while Chelsea Pottkotter added 11 points.
Joining Bader in double figures for Celina were Homan and Heiby with 10 points apiece.
The Bulldogs wrap up the regular season on Thursday at the Fieldhouse with Western Buckeye League foe Elida coming to town while the Indians travel to Delphos to take on St. John's on Thursday to complete Midwest Athletic Conference action.