Thursday, February 16th, 2012
Coldwater Chamber of Commerce names recipients of 2011 awards
By Betty Lawrence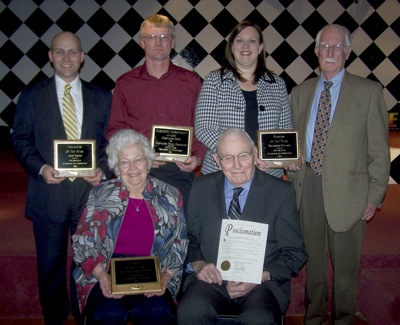 COLDWATER - Well-known Coldwater couple Ray and Mary Wenning were honored with the 2011 Coldwater Chamber of Commerce Citizens of the Year award at Wednesday's annual banquet.
The couple, formerly engaged in farming and long-time business operators, have remained active in the community and with their church. They have 16 children, 60 grandchildren and approximately two dozen great-grandchildren.
The couple, married in 1947, founded Ray's Refrigeration and Ray's Dairyland in Coldwater. Ray Wenning also is a World War II veteran and purple heart recipient.
Outgoing chamber president Lisa Niekamp-Urwin kicked off the awards event at Overdrive on U.S. 127.
Mark Gruss, representing the Coldwater Picnic Association, accepted the Community Improvement award.
The association was instrumental in raising funds for construction of the new Depot facility at Memorial Park.
The Business of the Year award went to Briarwood Village. The facility has brought more than 100 jobs to Coldwater and has established a reputation as a leading care community. The business has been a part of the community for 40-plus years.
Administrator Tara Sibert accepted the award alongwith Don Desch, who was instrumental in the founding of the facility.
Coldwater businessman John Yoder was named Volunteer of the Year.
Each award recipient also was presented with achievement proclamations by Mercer County Commissioners John Bruns, Jerry Laffin and Bob Nuding.
The chamber added 12 new members in 2011, and Niekamp-Urwin touched on the chamber's projects and activities throughout last year.
"Last year we started a Farmer's Market at the corner of state Route 118 and Sycamore Street. It was a success, and we plan to do it on an even bigger scale this year," she said.
The chamber also was involved in the annual Community Picnic, Patriot 7K run, Christmas activities and more.
Outgoing chamber trustees Dan Broering, Randy Kaup, Niekamp-Urwin and Jill Timmerman were recognized, along with new trustees Kim Bruns, Kerri Dicke, Justin Griesdorn and Paula Detterman.
Coldwater Mayor Joe Knapschaefer briefly recapped the village's 2011 achievements, noting the income tax figure was a record high $1,325,000.
"We worked with a conservative budget last year and intend to in 2012 as well," he said. "There are no major street projects planned this year, but we will be working all year on installing the new water meters. (It is) expected to take three to four years to complete."