Monday, February 27th, 2012
Home invasion similiar to Grube murders
Mendon father, daughter threatened at gunpoint
By Margie Wuebker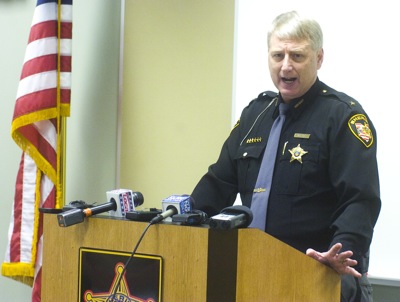 An early Saturday morning home invasion in the Mendon area bears striking similarities to an unsolved double murder that occurred Nov. 30 in the Fort Recovery area, according to the Mercer County Sheriff's Office.
William Fair, 79, and his 47-year-old daughter Kathy Fair, both of 12617 Dutton Road, received minor injuries - cuts and scrapes to their arms and hands - while defending themselves from a trio of intruders attempting to bind them with duct tape.
Sheriff Jeff Grey during a press conference this morning said the incident, which occurred just after midnight, began when Kathy Fair went to answer a knock at the door. A short, stocky man reportedly inquired whether a certain person was home, and the woman attempted to close the door after spotting another male suspect in a ski mask standing nearby.
One of the men threatened the woman with a small handgun, saying he would shoot her father if they didn't reveal the location of money in the home.
The Fairs reported hearing a loud vehicle pull into the driveway and a short, skinny woman came inside. The trio left during the struggle without firing a shot and with the Fairs' money.
The Fairs called 911 at 12:23 a.m., reporting a boxy type SUV with a loud exhaust left southbound on Dutton Road. According to Grey, a similar vehicle was spotted in the area of the Robert Grube home near Fort Recovery, where Robert and his daughter Colleen were murdered almost three months ago.
The suspects in the most recent incident are described as a short (smaller than 5 feet, 7 inches) stocky male with reddish blonde hair, younger than age 40; another male wearing a ski mask, taller than the other suspect and something shiny in the mouth/nose area, possibly a piercing; and a short female, possibly 5 feet, 1 inch or 5 feet, 2 inches and skinny. She, too, wore a ski mask.
"We don't know whether the home invasion and the Grube murders are connected, but there are a lot of similarities," the sheriff said.
Agents with the Ohio Bureau of Criminal Investigation and Identification (BCI & I) are assisting local detectives are helping with the case.
Robert Grube, 70, and Colleen Grube, 40, were found bound with duct tape and shot to death shortly before 9 a.m. Dec. 1. The daughter was last seen at 5 p.m. Nov. 30.
Investigators did not find evidence of forced entry, leading them to believe the perpetrators - possibly a man and a woman - entered through an unlocked door or were admitted by one of the victims. There were no signs of a struggle, but it appeared the home had been ransacked and a laptop computer was missing.
The Fairs and the Grubes did not know each other, according to Grey. The Fair home is situated in the northwest portion of the county, 30 miles from the Grubes' Fort Recovery-area home in southwest Mercer County.
"Mercer County is not a place where we deal with crimes like this," the sheriff stated.
He said residents need to become more aware of their surroundings - what is normal and what is not.
The sheriff warned residents not to answer knocks on the door at unusual times of the day or night.
"Call 911 and let us come and check it out," the sheriff said. "We would rather come out and find out everything is OK than to find more victims."
In the Grube case, detectives Doug Timmerman, Lance Crum and Megan Baker have conducted 208 interviews, served 76 subpoenas and court orders, executed 12 additional search warrants and fielded 80 tips. They have visited eight Ohio counties (some multiple times), four Indiana counties (some multiple times) and traveled to four other states following up on leads.
Analysts at the London headquarters of BC&I continue to study 150 pieces of evidence collected during the investigation.
"By far this is the most complicated and most serious case any sheriff's office can face," Grey told The Daily Standard recently. "I've never seen anything like this since I became involved in law enforcement back in the 1980s."
Normally investigators can put together a list of known enemies in the wake of a murder. That is not the case with the Grubes, who reportedly led a quiet, peaceful life.
Detectives have found no enemies, only a list of people they helped along the way.
"They were unlikely candidates to become victims," the sheriff said. "They did not have a dark side to their lives or skeletons in the closet."
Statistics from BCI & I indicate 87 percent of murders are committed by a family member, neighbor or friend. Only 13 percent are committed as a random act of violence.
Grey said there is no reason to suspect a family member was involved in the Grube murders.
Authorities are confident the identity of the perpetrators lays somewhere amid thick binders and file folders holding thousands of pages of notes and test results.
"We have the info to solve this case," Grey said. "We just need the right tip to make the connection."
Tips can be left on the sheriff's office website at www.mercercountysheriff.org or by calling the tip line at 567-890-8477.