Monday, February 6th, 2012
Cavaliers capture team championship
Lions Invitational
By Gary R. Rasberry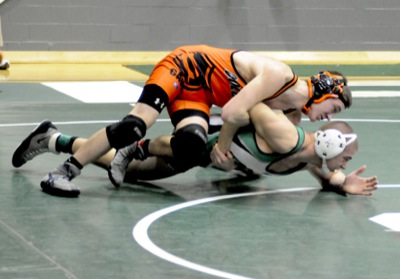 CELINA - Coldwater's wrestling coach Rob Schmidt has stressed team goals all season for his Cavaliers.
The Cavaliers got strong contributions from the entire team en route to capturing the Lions Invitational championship at Celina's Fieldhouse on Saturday.
It was a four-team battle for most of the day as Midwest Athletic Conference rival Versailles along with Division III power Ayersville and Fremont Ross (Division I) had their eyes on the top prize along with the Cavaliers.
Coldwater had 10 of its 14 weight classes rank in the top four to score points as the Cavaliers amassed 244 1/2 points, 15 1/2 more than runner-up Versailles and 18 more than third-place Ayersville. Fremont Ross was fourth with 211 1/2 while the host MatDogs were fifth with 180 points.
"It was a team effort. I told them if we were going to win this, everyone would have to win matches," said Schmidt. "We had a lot of placers today.
"It means a lot of me, my staff and the wrestlers," continued Schmidt about winning the tournament. "We talked about it all week (about) how much it would mean to everybody. They lived up to it. They met their goals."
Leading the way for the Cavaliers was Jeremy Post at 132 pounds. In the opening round-robin format, Post went 3-0 with two pins and a technical fall to earn the top seed of his pool for the two-round championship rounds. Post pinned Andrew Miller of Toledo St. John Jesuit in 1:23 in order to face fellow unbeaten Cory Guingrich of Celina. In the title bout, Post earned an 11-0 major decision to win the weight class and earn the Most Valuable Wrestler award of the meet.
"I thought I wrestled pretty good," said Jeremy Post. "There was some scrambles I should have won. Overall I wrestled pretty good. Guingrich is a pretty good wrestler for a freshman."
Cavaliers' teammates that also made the top of the podium were Justin Post at 220 pounds. Post was 3-0 in pool action and then scored a pin over Ayersville's Griffin Friesner before a hard-fought 5-2 decision over Versailles' Devin Oliver.
"It was pretty hard," said Justin Post of the competition. "You just have to keep fighting to the end."
Jake Fink had to do some battling at 160 pounds. Fink earned three wins via decision in pool play, including a tight 6-5 win over Versailles' Tyler Clack to grab the top seed. In the championship rounds, Fink pinned Elmwood's Dalton Bressler before scoring a 5-2 decision over Celina's Tony Sutter, who was also 4-0 going into the final bout.
Also making their way to top-four finishes on the podium for Coldwater were Brent Collett and Derek Collett, each third at 152 and 170, respectively. Ben Koesters (182 pounds), Mason Kuether (120) and Alex Grieshop (heavyweight) were third while Alex Timmerman (145) and Jordan Obringer (113) finished in fourth.
No individual championships for Celina, but there were several close calls. In addition to Guingrich finishing third and Sutter in second, Brandon Newland started his day with four straight pins at heavyweight. The only one in Newland's way for a title was Fremont Ross' Jalil Dolton, who had two nine-second pins earlier in the day. Dolton was pushed the distance by Newland before winning 4-2.
Other Celina wrestlers earning their way to the podium were Chad Braun (third at 145), Kevin Lockwood (third at 195), Andy Garwood (fourth at 138), Zach Senger (fourth at 152) and Curtis Silliman (fourth at 182).
Next Saturday Coldwater will host the annual MAC trimatch with Versailles and Delphos St. John's at noon in The Palace while Celina heads north to Defiance for the Western Buckeye League tournament.