Tuesday, February 7th, 2012
Surviving crash into water possible
By Betty Lawrence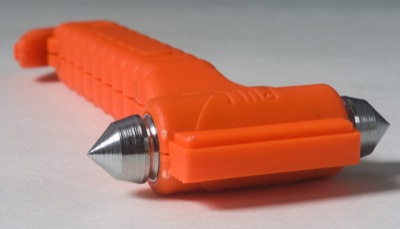 Stay calm and don't panic.
That's the first tip from area experts on what to do if your vehicle becomes submerged in water.
"If you know you're going in, unbuckle your belt, get a window down and get out, and if you can't get out the window, just don't panic," Celina Fire Chief Doug Wolters said.
Two area people have died in the past month after their vehicles left the roadway and became submerged in water.
A Rockford teenager drowned in her vehicle Saturday after she is believed to have overcorrected along a road in Putnam County and entered a pond. Three weeks ago, a Coldwater man left the roadway in snowy conditions and mistakenly drove into a pond. He was able to escape his vehicle but later died from exposure.
If a person can not immediately escape from a window, Wolters said the occupant should wait as the vehicle fills with water to allow the pressure inside and outside of the car to equalize so the door can be opened.
He also advised drivers keep a rescue tool, such as a life hammer or window punch, within arm's reach.
"If you can't get the door open and window down, take your window punch and just hit it against the window. They are spring loaded and they do work," Wolters said. "And after you are out, please do not go back in to retrieve anything."
Gerald Dworkin, a professional aquatics safety and water rescue consultant, reports that each year approximately 1,500 incidents and 600 deaths occur nationwide involving vehicles that have gone into water.
"The decision to escape the vehicle must be made as soon as the vehicle leaves the road and enters the water," Dworkin said. "You can call 911, but start exiting immediately. A car will only float 30 seconds to several minutes. It all depends on the vehicle's seals. A decision needs to made immediately, especially in deep water ... if it sinks, it will end up on its roof and you will be upside down. Don't waste time, take immediate action."
He also notes that studies have shown the electric power may stay on for as much as 10 minutes or the battery may short out immediately, making the electric window switches useless.
"The bottom line is, get out and don't waste time doing it. You won't have much time," Dworkin said.
Chris Cline, a member of the Celina Fire Department dive/rescue team, also stressed that motorists should first of all, remain calm.
"Dial 911 to give your location and try your windows," Cline said. "If you still have power, they should work and if they don't, wait for the car to fill up with water."
Cline dove in frigid water in February 2011 to rescue a young women whose vehicle landed in water 8-10 feet deep in a ditch outside of Fort Recovery. She had tried to drive across a flooded road.
"She had called 911, and the first responders were able to locate the vehicle quickly," Cline recalled. "She was not breathing when I pulled her out, but they were able to resuscitate her. It was a good team effort of all our guys."
A rule of thumb that Cline adheres to is, "50 percent chance of swimming 50 yards in 50 degree water." In the winter, the water generally is in the mid 30s, he said.
Experts advise drivers to never cross flooded highways. It only takes 6-24 inches of water to float a vehicle off its wheels.
Dworkin said he is especially concerned about a federal mandate requiring manufacturers to replace vehicle door windows, currently made of tempered glass, with laminated glass in 2013. Laminated glass is much more difficult to break.
"Once that occurs, it will be even more dangerous for occupants to escape and more difficult for rescue personnel to make egress to effect a rescue," he said.