Wednesday, February 8th, 2012
Stinky algae not expected
Lack of ice on lake may influence type of bloom
By Nancy Allen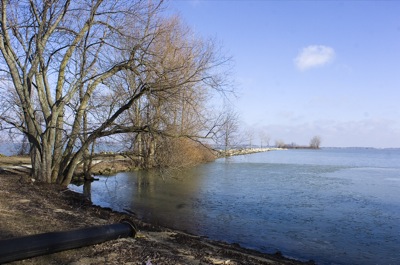 GRAND LAKE - The lack of ice on Grand Lake this winter may mean the freak algae that coated the lake in the summer of 2010 won't reappear this year.
Celina Water Treatment Plant Superintendent Mike Sudman said ice on the lake two years ago acted like a lid, trapping ammonia in the water. Planktothrix, the lake's dominant algae for years, is hampered by ammonia; aphanizomenon, the foul-smelling blue-green algae that overtook the lake in 2010, is not.
"In a typical winter ... you don't get an ice cap that stays the entire winter," said Sudman, who tracks ammonia levels at the treatment plant. "Planktothrix was still down there, but the ammonia stunted it and allowed the aphanizomenon to compete it."
Sudman said he asked scientist/algae expert Wayne Carmichael about the ammonia-aphanizomenon link while attending a seminar two years ago.
Carmichael said normally ammonia is gassed off into the air if there is no ice cover. Bacteria in the nutrient-rich sediment in the lake converts nitrogen into ammonia.
"I don't know if there is actual research that shows it (aphanizomenon) is more tolerant of ammonia, but I've seen situations where aphanizomenon dominates lakes that have a longer ice cover," Carmichael said.
Carmichael was the first person to discover the toxin produced by blue-green algae in natural lakes in Canada in 1972. When he moved to Ohio in 1977 to work at Wright State University in Dayton, the first lake he studied was Grand Lake. Now retired, he consults and advises on the topic from his Oregon home.
Sudman said the lake was ice-covered late November 2009 until mid March 2010. Data at the plant shows between December and February ammonia levels ranged from 0.84 to 2.30 milligrams per liter. The levels gradually fell in March to 1.13 milligrams per liter after the ice melted.
The new algae made people gape when it debuted in mid June. Some said it looked like an impressionist's painting with swirls of iridescent blue, green and white colors. Others said it looked like thick, moldy carpet. It also produced a nauseating stench when it decayed.
The less visual planktothrix colors the lake a consistent cloudy green throughout and does not smell as foul.
All blue-green algae, or cyanobacteria, need phosphorous, nitrogen and sunlight to bloom. Algae intensifies as the weather warms. The summer of 2010 included consecutive days of hot, humid weather.
Making the algae's appearance even more shocking was how good the lake looked that spring. The same cold weather that kept the lake ice-covered also killed more algae than normal, producing some of the clearest water in years. Even though the water looked great, aphanizomenon was waiting for warmer temperatures to bloom and multiply.
"When you looked in the lake, it was clear, but it was down there," Sudman said.
Sudman said last winter was starting to look like a repeat of 2010 until Mother Nature prevailed.
"Last year we were headed in the same direction, but in spring we had heavy rains and floods that broke open the ice and more or less flushed it out," he said.
The lake has had minimal ice cover this year, and ammonia levels have been lower, data shows. The average level from Dec. 7 to Feb. 1 is 1.05 milligrams per liter.
Whether one species of algae is better to have than another is unclear.
Carmichael said though aphanizomenon is extremely "visual," it is less likely to produce toxins than planktothrix.
"I'm not sure one is worse than the other," he said.
Officials hope a whole lake aluminum sulfate treatment set for April, if state funding comes through, will keep blue-green algae at bay this summer. Alum deactivates phosphorous, the algae's main food source. Most of the phosphorous that runs off into the lake comes from agriculture land, the largest land use in the 58,000-acre watershed.
An $3.4 million state-funded alum treatment of the lake's center last year reduced phosphorous levels in that area 56 percent and 20-30 percent in untreated areas. The 13,500-acre lake has had varying water advisories the last three summers due to algae toxins.
Alum is being used as a short-term solution to bring back lake visitors until long-term actions involving better manure management and installing conservation practices on mostly farmland reduce overall phosphorous runoff.