Thursday, March 1st, 2012
Panthers bounced, Cavaliers advance
Division III Sectional at Wapakoneta
By Gary R. Rasberry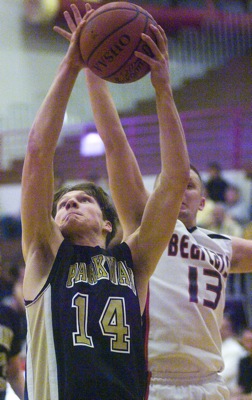 WAPAKONETA - In Wednesday's Division III sectional at Wapakoneta High School, Parkway was the victim of a blistering start by Spencerville while Coldwater benefited from a strong beginning.
Coldwater keeps its season alive after defeating Allen East 61-42 in the nightcap while the Panthers were stymied by second-seeded Spencerville in a 79-48 loss.
The Cavaliers (8-13) and Bearcats (14-7) will play on Friday around 8 p.m. for a trip to the districts. The first game on Friday will pit top-seed and state-ranked Lima Central Catholic against Northwest Conference rival Delphos Jefferson at 6:15 p.m.

Spencerville 79, Parkway 48
Spencerville took the term "shooting the lights out" to heart in the first half.
Already on top 17-11, Spencerville went on a 10-0 run in a span of 82 seconds in the second quarter to take command 27-11. By the time the halftime buzzer sounded, Spencerville outscored Parkway 32-7 in the quarter and went to the break up 49-16.
Spencerville made 14-of-19 field-goal attempts (73.7 percent) and converted 16-of-18 from the foul line in the first half, a stat that even surprised Bearcats' coach Kevin Sensabaugh.
"Our guys came out ready to play," said Sensabaugh. "I was proud of they way they approached the game. Sometimes it's easy to overlook teams that don't have a great record, but I knew Parkway was going to come out ready to play. I knew they would play hard and compete. Our guys did a great job of staying focused. We executed well, that's why we got the looks we got."
Parkway's coach Will Snyder could not fault his team's effort as the Bearcats were on a tear.
"I think (Spencerville) scored on every offensive possession of the second quarter," said the former Panthers' player and first-year head coach. "They missed and we didn't get the rebound and they ended up scoring off of the misses. They shot the ball extremely well. We had a period at the end of the first quarter that was a big possession for us and we didn't do what we worked on doing. We lost control of what we were doing. That three and the end of the (first) quarter was the momentum right there."
The Bearcats, who were playing without their two main post players Dominick Corso and Coleman McCormick due to illness and injury, did cool down in the second half but still made a respectable 10-of-23 from the field to keep the game well in hand.
Eli Bowers led Spencerville with 24 points. Derek Goecke added 16 points with Devon Cook scoring 15. All 10 Bearcats scored at least two points in the game.
Panthers' senior Derek Luth wrapped up his high school career with 12 points while Riley Bransteter and Brant Barna each added eight points.
Coldwater 61, Allen East 42
The Cavaliers jumped out quickly on the Mustangs (6-15) as Austin Bruns scored the first seven points for Coldwater to help put the Cavaliers up 17-2 through the first seven minutes of play. The defensive pressure forced Allen East into nine first-quarter turnovers, most resulting in some easy Cavaliers' buckets.
"Once we got that big lead, we kept trying to tell the players to keep playing at the high level of intensity," said Coldwater's coach Mike Bruns. "Sometimes it's tough for kids to maintain that level. We came out and the goal was to contain and contest James Richardson (Allen East's point guard). Everything goes through their point guard."
Coach Bruns got a big lift from the Cavaliers' bench as Coldwater's subs totaled 28 points in the game.
"We've got a good strong bench and I feel good about that," said Bruns.
After holding Allen East to four first-quarter points, the Cavaliers put the game away in the second quarter by outscoring the Mustangs 16-8 for a 33-12 lead by halftime.
In the second half, Coldwater got the lead up past the 30-point mark and were up as much as 34 before the Mustangs were able to muster some fourth-quarter offense as coach Bruns emptied the bench.
Austin Bruns scored 16 to pace the Cavaliers as 11 of the 12 Cavaliers that got into the game scored at least a point. Brandon Wolters and Mitch Heyne added eight points with Jeremy Scott scoring seven.
Tanner Richardson paced the Mustangs with 13 points.
Coldwater Ticket Info - Tickets for Friday's sectional final against Spencerville at Wapakoneta will be on sale from 6 p.m. to 7 p.m. tonight and from 8 a.m. to 3:30 p.m. in the high school office on Friday. Presale is $6 for adults and $4 for students with tickets at the door $6. There is also a parking fee at Wapakoneta.