Wednesday, March 7th, 2012
New commissioner elected
2012 primary
By William Kincaid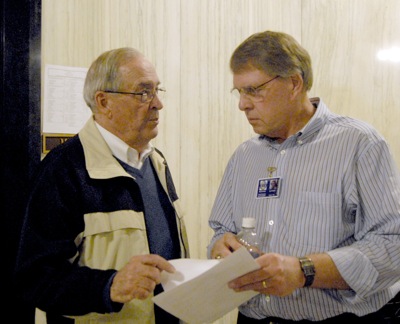 Mercer County will have a new commissioner next year as challenger Rick Muhlenkamp defeated incumbent Bob Nuding in the Republican primary Tuesday night.
Also, long-time Republican commissioner Jerry Laffin secured a ninth term after receiving 100 percent of the vote; his opponent Scott Bruns dropped out of the race last week.
No Democrats or independents filed for either seat, so Muhlenkamp and Laffin will be unopposed in the November general election.
"I'm just looking forward to serving the people of the community," Muhlenkamp said Tuesday night after reviewing the election results at the Mercer County Courthouse.
The 49-year-old grain farmer and substitute teacher from Celina who captured 53.5 percent of the vote thanked his supporters.
"I thought it could possibly be close," Muhlenkamp said about the race, pointing out he hit the campaign trail hard the last three months, meeting with people and listening to their thoughts and concerns.
Muhlenkamp received 3,198 votes and Nuding had 2,774.
Muhlenkamp serves as chairman of the Mercer County Regional Planning Commission, secretary of the Mercer County Soil and Water Conservation District and treasurer for Grand Lake Wabash Watershed Alliance. His campaign focus was communication between the people and their government. While campaigning, he said he would go to the office more than two days a week - commissioners now meet on Tuesdays and Thursdays - to give people more opportunities to communicate one-on-one.
Laffin, 73, captured all of the votes - 3,681 - as Bruns unexpectedly withdrew his candidacy at a meet-the-candidates forum on Feb. 26.
Notices were posted at each of the polling locations, informing voters that votes cast for Bruns would be void and not counted in accordance with Ohio Revised Code.
Laffin, a farmer who has served as commissioner for 32 consecutive years, said he was pleased with the results but added he somewhat hated the way it had happened with Bruns' withdrawal.
He has served as chairman of Top of Ohio Resources, Conservation and Development Council and as a member and past treasurer of the National Association of Resources, Conservation and Development Council.
Laffin said he is willing to change with the times to do what is best for the county.
The biggest challenge commissioners face is running the county with fewer state funds, he said. Though sales tax have been good recently, he would like to see additional growth.
All results are unofficial until an official count is held within two weeks of election day.