Saturday, March 10th, 2012
Redskins headed to regionals
Division IV District Finals at Elida
By Ryan Hines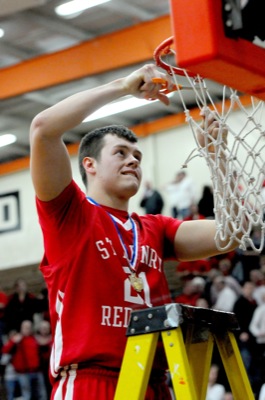 ELIDA - The St. Henry boys' basketball team dominated the second quarter and the Redskins rallied around the play of Kyle Stahl and Craig Knapke en route to a district championship.
Stahl and Knapke combined for 31 points and 23 rebounds to help St. Henry knock off Fort Recovery 48-39 in the Division IV district finals on Friday night at the Elida Fieldhouse.
St. Henry (20-4) advances to the Kettering Fairmont regional on Tuesday at 5:30 p.m. riding a 13-game winning streak. The Redskins will face top-ranked and unbeaten Jackson Center (23-0).
"It's a great feeling to win the district title because we beat one of our rivals to do it," said Stahl, who scored a game-high 17 points and pulled down 14 rebounds. "We have high expectations for this year and we always thought this was possible. We stayed poised throughout the game and I thought that was key for us tonight."
Fort Recovery led 10-6 after the opening eight minutes of play but St. Henry outscored the Indians 15-2 during the second quarter for a commanding 21-12 lead by halftime. Knapke had six points on offensive rebounds to key the Redskins' game-changing run.
"It was a big game and I wanted to come out strong and do my best," said Knapke. "We had confidence since we beat them earlier this year, we just had to go out and prove that we could do it again and we did."
"We really started to screen better on offense during the second quarter," said St. Henry's head coach Eric Rosenbeck. "Our big guys Kyle and Craig sealed down low off the screens and put the ball in the hole when they were in position to score."
Fort Recovery was 0-for-5 from the field in the second quarter and only two free throws kept the Indians from going scoreless.
"St. Henry is a pretty nice club and they went on a nice run in the second quarter because we just couldn't score the ball," said Fort Recovery's head coach Brian Patch.
Fort Recovery's offensive struggles weren't limited to the second quarter as the Indians finished the game 11-of-54 from the field overall (20 percent) and just 2-of-21 from three-point range (9.5 percent). The Indians shot 50 percent from the floor for the season.
"I thought we had great looks from the guys we wanted to shoot it, but we just didn't hit them tonight," said Patch. "It's a helpless feeling. We missed shots that we are used to making and capable of making. It wasn't because of a lack of effort, they just didn't fall tonight for us."
Stahl scored five quick points to open the second half as St. Henry's lead hit double digits. Fort Recovery's Wade Gelhaus had a pair of steals that resulted in two-handed dunks early in the third quarter, but the Redskins closed the quarter with a 10-2 run for a 37-21 advantage with eight minutes left to play in the game.
A Stahl bucket to open the fourth quarter pushed St. Henry's lead to 39-21 and Fort Recovery never got closer than eight points the rest of the way.
"We tried to make it a helter-skelter type of a game in the fourth quarter and it helped us get it down to eight points, with a chance to cut it to six," said Patch. "We missed a shot on that possession and they hit four straight free throws to extend the lead again."
St. Henry hit just 7-of-14 from the free-throw line in the fourth quarter, but it was enough to hold off Fort Recovery for the second time this year. The Redskins also beat the Indians during the regular season 42-41 on Feb. 3rd.
"It wasn't always pretty in the fourth quarter but the important thing was that we made enough plays to win this game and advance," said Stahl, a third team all-district selection.
Gelhaus, the northwest district's Co-Player of the Year in D-IV, led Fort Recovery with 12 points but shot just 4-of-20 from the floor. Elijah Kahlig added 11 points on 3-of-14 shooting from the field while Jared Kahlig and Jason Pottkotter (14 rebounds, 11 offensive) combined to shoot 3-of-15 for 13 points.
"Our size and our ability to contest shots around the rim played a big part in their tough shooting night," said Rosenbeck. "Yesterday was one of our best practices of the year and I think it played a big part in how well we played tonight, especially on the defensive end."
St. Henry finished the game 19-of-40 shooting from the floor (48 percent).