Tuesday, March 20th, 2012
Vote nears on unsafe buildings rule
By William Kincaid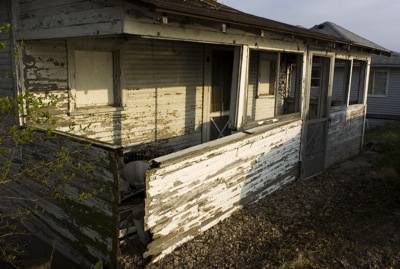 CELINA - A new policy that would empower city officials to fight back against dangerous and unfit structures within the city is nearing a vote.
City council members gathered on Monday night for a community betterment committee meeting to review a proposed unsafe buildings policy assembled by safety service director Tom Hitchcock. A first reading of the ordinance that would enact the law is scheduled for 7 p.m. Monday at city hall.
If approved, any building deemed dangerous or unfit would have to be repaired or demolished depending on its condition. The safety service director would take on the role of building inspector and make such rulings.
Councilman June Scott asked if the building inspector would actively seek out dangerous and unfit structures.
"Yes, we will be proactive in finding them," Hitchcock replied.
This year the city plans to go after detached garages and sheds - projects that city employees could demolish if need be and would incur minimal costs of dumpster fees, Hitchcock said.
City officials would target larger structures in subsequent years once money is appropriated in the general fund to pay for outside contractors. Property owners then would be billed to recoup the costs.
"They're (affected property owners) not going to want us to take care of it," councilman Jeff Larmore said, explaining most people don't want additional fees assessed on their taxes.
He added that Hitchcock's proposed policy has teeth to get the job done.
"It's going to put consistency across the board," Larmore said. "And it's going to clean things up."
Councilwoman Angie King said she doesn't oppose the policy but has concerns, such as a provision stating a structure deemed dangerous will be ordered demolished if it has been closed or boarded-up for at least two years.
She said she wouldn't want to see properties demolished that have a potential value for rehabilitation, adding she would rather see a home than an empty lot.
"If they're unsafe, they're unsafe," Hitchcock said.
Councilman Bill Sell said if the structures are redeemable, than the policy wouldn't apply.
"It depends on what your definition of redeemable is," Hitchcock said.
Hitchcock said the city would be lenient with the 60-day order to repair or demolish structures if the owners are showing progress or are waiting on a contractor they have paid to do the work.
Mayor Jeff Hazel said there would be an appeal's process for people to challenge city orders.
Hitchcock said he has never seen an appeal filed during his 12 years experience with similar policies in other towns.
A letter ordering a repair or demolition usually serves as motivation to pursue remediation that the owner may have been considering anyway, Hitchcock said.
No owner of a building or structure in the city would be allowed to keep it in a state of disrepair that endangers the health, safety and welfare of residents or is a public nuisance, the proposed policy states. It lists several defects that would constitute a dangerous and unfit structure, such as leaning or buckling walls; damage by decay, deterioration, fire, wind or other elements; unfit conditions for habitation; and many others.
Hazel has said the policy would allow the city to address buildings that are simply unsafe, whether it be the presence of rodents or broken windows.
What it won't address is aesthetics, Hazel has insisted.