Saturday, March 24th, 2012
Heartfelt gratitude
By Margie Wuebker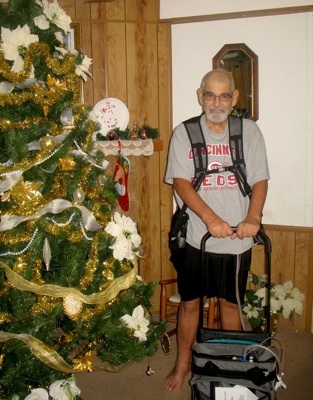 MENDON - Dan Crouch listens to the comforting sound emanating from what appears to be a suitcase on wheels and feels the reassuring whirr inside his chest.
The mechanical pumps - one for the right ventricle and the other for the left - keep his weak heart plugging along until transplant surgery offers him a new lease on life.
"The wonderful people at Lutheran Hospital in Fort Wayne, Ind., believe I am one of only five people in the world to come home with two devices like these," Crouch said. "That's rather amazing when you stop and think about it."
The 59-year-old with a ready smile looks across the living room at a festive Christmas tree and shares plans for a post-holiday celebration today.
"Dan went to the hospital Dec. 1, and we decided to keep the tree up until he came home for a family party," his wife, Terrie, explains.
His long-awaited homecoming took place March 13.
"I consider that an omen because a lot of good things in our family take place on the 13th," she says.
The former announcer at Parkway Local Schools sporting events and boys baseball coach in the community has dealt with heart disease since age 41. He said many years of smoking two packs of cigarettes a day are to blame for his condition.
A heart attack and subsequent quadruple bypass surgery were the first of many bumps in the road. Four years ago an oncologist ordered heavy-duty chemotherapy after a lymphoma (cancer of the lymph system) diagnosis. The powerful drugs also contributed to his condition.
"First there were heart problems, then cancer, then pneumonia and now more heart problems," Crouch says. "Complaining serves no purpose. I believe in God, and I'm committed to playing the hand he dealt me."
Admitted to Lutheran with congestive heart failure, doctors ordered a treatment called aquapheresis. It removed approximately 40 pounds of excess water from his body and paved the way for surgery to install both heart pumps.
"The doctors told me Dan had about two hours of life left when they took him into surgery," his wife says. "The surgery they described as a last resort was to take anywhere from 12 to 16 hours; you can imagine what we thought (when he was done) after only seven hours."
Crouch awakened after surgery to find a huge, 400-pound device tethered to his body with a maze of tubes and wires. The 20-pound portable replacement he now totes is much easier to maneuver.
His wife, children Deanna and Josh and mother, Mildred Crouch, are among seven family members trained in providing at-home care and responding to the shrill beeps that warn of a possible emergency.
"I wanted to come home so bad but a part of me feared leaving the safety of the hospital," he admits with a smile. "My family is taking really good care of me, and the professionals at the hospital are just a telephone call away."
A visiting nurse comes regularly to check on his progress. She and the Crouch family make sure he rests, drinks plenty of liquids, eats regularly and takes 16 to 18 pills daily. Doctors predict the transplant could occur within six to 12 months.
Dr. Mark A. Jones, Lutheran's medical director of cardiovascular services, told the Crouches that with the transplant, Dan will have had every heart-related treatment available.
The ideal heart will likely come from a younger donor - ideally someone 18 to 26 years old.
Crouch admits the thought of someone else dying so he can live shakes him to the core. He prays for the family that one day will face such a difficult decision in the midst of a tragedy.
"I had an opportunity to see transplant patients at Fort Wayne, and it is truly amazing the way they bounce back," he said. "One guy who got a new heart 25 years ago is out running."
The former guitarist in the band Artesia admits his goals are quite different. He wants to teach his children and grandchildren to play guitar and to share the importance of placing one's life in God's hands.
"I want to leave them with something no one can ever take away," he adds. "Music can be as soothing and comforting as the sounds of these pumps, and God is always with you in good times and bad."