Monday, March 26th, 2012
Lakers sweep twinbill in debut
By Gary R. Rasberry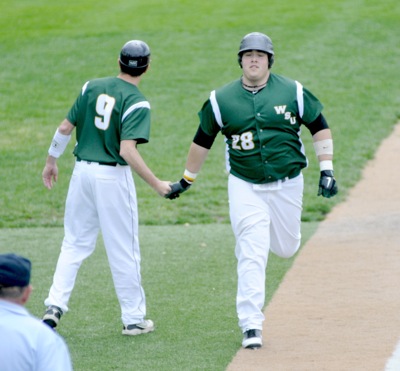 CELINA - The Wright State University-Lake Campus baseball team couldn't have asked for a better debut.
The Lakers posted a doubleheader sweep over the Ashland University baseball club team by impressive 7-1 and 14-2 margins at Montgomery Field on Sunday afternoon.
"It was a good start," said WSU-LC's coach Rob Howell. "It was a good day for us to come out here and finally get a couple of games in. Obviously, these guys have been waiting a long time. We performed well."
Game One
WSU-LC 7, Ashland 1
Lakers' southpaw Jeremy Kerr started his day with a strikeout that set a tone for his five innings of no-hit work on the mound. The only thing that held back Celina grad Kerr was a high pitch count, which caught up to him after five innings, forcing him to leave with a no-hitter intact.
"He hit his pitch count, and he came out. It's early in the year (and) a non-conference game," said Howell. "We're not about to get somebody hurt. He did a great job and he did exactly what we asked him to do and the guys rallied behind him at the plate."
Aaron Rammel (Coldwater) earned the first-ever Lakers' hit by leading off with a triple in the bottom of the first inning. Rammel then scored the first-ever Lakers' run when he and Trevor Burch scored on a Kyle Markle two-run single.
Bill Ray (New Knoxville) walloped the first-ever Lakers' home run to lead off the second frame.
WSU-LC added three runs in the third and a final run in the fifth, collecting nine hits on the day, with five going for extra bases.
"It was good to see live pitching, and hit live pitching well," said Howell. "It was a great start. Can't be any more happy."
Eric Kunkler (St. Henry) came in to pitch in relief of Kerr and threw a perfect sixth before giving up a Cam Wolfe single to start the seventh to end the no-hit bid by the Lakers. Wolfe later scored to break up the shutout.
Ray went 2-for-3 with two RBI while Markle and Jay Kleinhenz (St. Henry) each went 2-for-2 with two RBI.
Game Two
WSU-LC 14, Ashland 2
The Lakers took advantage of nine Ashland errors which resulted in eight unearned runs.
Lakers' pitcher Caleb Shreves (Celina) kept the ball low and forced Ashland into mainly strikeouts (five over four innings) or groundouts (only one fly ball out) in scattering three hits and one walk.
"He throws strikes. That's all we can ask," said Howell. "For the most part, (the pitchers) threw strikes out there and made them put it into play."
Ray came on to pitch in relief of Shreves and gave up a run in the fifth and walked the first two batters of the sixth, prompting Howell to bring on Burch.
Burch, a product of Dublin-Jerome, struck out the side to get out of the sixth inning and then struck out the first two of the seventh before getting a fly out to right to end the game. Burch, who came in as a defensive replacement in the fourth, went 3-for-3 with two RBI. Kerr scored three runs and drove in three more. Joe Dellinger (Parkway) and Ray each drove in two runs.
WSU-LC heads to Lima on Tuesday to face the University of Northwest Ohio starting at 4 p.m.