Friday, March 30th, 2012
Sawmiller pitches gem for 'Riders
Roby drives in all six of St. Marys' runs
By Mark Ruschau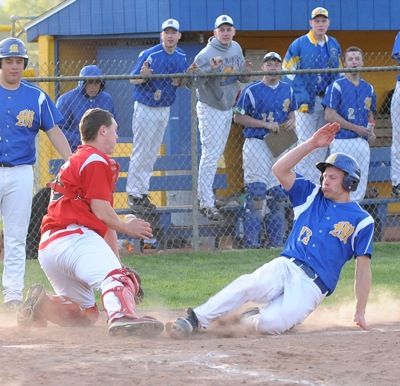 ST. MARYS - The St. Marys Roughriders rode the strong arm of senior Bradley Sawmiller and the hot bat of senior Tyler Roby to defeat the St. Henry Redskins 6-0 in baseball action on Thursday afternoon at K. C. Geiger Park.
Roby was 4-for-4 (two doubles and a triple) at the plate and drove in all six of St. Marys' runs, but Sawmiller's performance on the mound was the key for the Roughriders.
Sawmiller scattered five hits in pitching a complete-game shutout. Sawmiller walked five and hit two batters but was able to post the shut out by getting the big out when he needed it as he stranded nine Redskins' runners on base and struck out 11.
In the second inning, St. Henry had two runners on base with one out but Sawmiller struck out Brian Kremer, and Darin Schwieterman popped out to end the threat. Then in the third inning, the Redskins had two runners on base with one out but Nathan Froning popped to first for the second out. After Caleb Heitkamp walked to load the bases, Sawmiller got Jeff Paul looking at strike three to end the threat.
In the sixth inning, for the third time in the game, St. Henry had two on with one out but Trey Rutschilling struck out. After Kremer singled to load the bases, Sawmiller struck out Schwieterman to maintain the shutout.
The last chance for a St. Henry rally came in the seventh inning when the Redskins got two runners on base with one out as Sawmiller hit Derek Rindler and Alex Post. Sawmiller then completed the shutout as he struck out Nathan Froning before Roughriders' catcher Stephen Paulus picked Post off of first base to end the game.
"Bradley pitched a whale of a game tonight," said St. Marys' coach Dave Huber. "I think the light bulb went on for this team tonight. Coming into the game, we talked about doing the little things that we needed to do to win a game and I thought, for tonight, we did a good job of that.
"We have great respect for teams from the Midwest Athletic Conference and it feels good to get a win over a quality program like St. Henry," continued Huber. "With that said, we have to put this win into context, it is just one win in one game and now we have to face a great Minster team on Saturday and we have to be ready to get after it again."
"We just had a bad mental approach to this game and it showed. Hopefully we can learn from it," said St. Henry's coach John Dorner. "It was a bunch of little things that hurt us tonight, like our pitchers pitched from behind (in the count) for the biggest part of the game, we left too many men on base and defensively, although we did not commit any errors, we made too many mistakes.
"Sawmiller pitched a whale of a game tonight but we helped him," continued Dorner. "Our approach to hitting was not there tonight. It showed and we will improve."
St. Marys returns to action on Saturday hosting Minster in a doubleheader with a noon first pitch. St. Henry will take part in the Redskin Invitational on Saturday at Wapakoneta.