Saturday, April 7th, 2012
Memorial a tribute to part of Mendon's past
By Betty Lawrence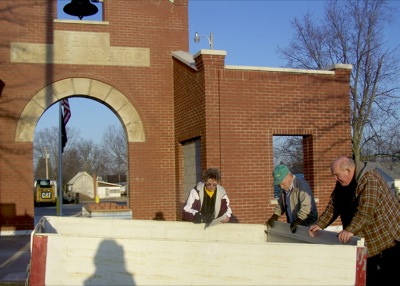 MENDON - When Mendon-Union school was torn down in 2006, many felt like they lost a good friend.
To help keep the Pirate school spirit alive, the Mendon-Union Alumni Association has erected a memorial entrance to the 10-acre park where the school once was located. The archway includes sandstone and the school's nameplate salvaged from the 1910, two-story brick building.
The nearly 100-year-old school- its own district until it consolidated with the Parkway school system in 1992 - was demolished after a new K-12 school was built in Rockford. The land was given back to the village and turned into Mendon Union Memorial Park.
To help with construction expenses of the entrance, the Mendon Union Alumni Association sold signature bricks that are now part of the memorial.
"The original school bell was missing, but Hamilton-Bethel Church donated their old church bell, and it looks great hanging from the memorial," alumni president Butch Piper said.
Piper, a proud 1963 graduate of Mendon-Union High School, said the entrance is all he had hoped it would be.
"It ended up being just 50 feet in front of where the old school set, and yes, we are pretty proud of ourselves. This was put up all by private donations, no grant money or tax dollar money was used," he said.
Nearly $45,000 was needed to construct the memorial.
"We all worked hard to get this up, even when there were times that we wondered if it was really going to happen or was it just a pipe dream," he said.
Crews hired to do the work were Anderson Architects of Van Wert, Mitch Scott Construction of Celina, Benny Young Construction of Mendon, Bernard Masonry of Maria Stein and D&G Concrete of Celina. To finish the project, Celina American Legion donated flags and flag poles.
Mendon residents also were the driving force in obtaining a state grant and donations for constructing a shelter house and walking path in the park last year, Mendon Union Parks and Recreation Committee member Dan Crouch said.

Dedication planned:
When: 2:30 p.m. May 26
Where: Mendon Union Memorial Park, off Green Street
Details: Celina American Legion will provide a color guard for the ceremony. This will precede the annual Mendon Union Alumni Association banquet at the American Legion in Celina.