Monday, April 9th, 2012
Post, Stammen pitch shutouts as Redskins roll to invitational title
By Randy Bruns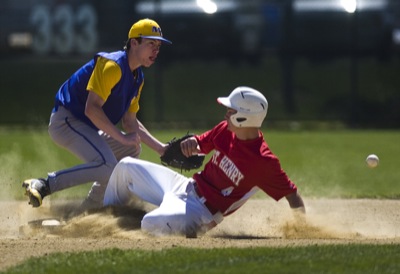 ST. HENRY - After a shaky start to the season, the St. Henry Redskins took the first step to righting the ship on Saturday thanks to a pair of sparkling pitching performances.
The Redskins' two starting hurlers - Alex Post and Kent Stammen - pitched a combined 14 innings of shutout ball in helping the hosts garner the WCSM/St. Henry Bank Baseball Invitational at the Wally Post Athletic Complex.
The championship game pitted the Redskins against the Marion Local Flyers for the 12th consecutive year, and though both squads got stout pitching efforts in the semifinals, only the Redskins were able to replicate the feat in the title game and cruised to a 6-0 victory.
The first inning was a perfect foreshadowing of the rest of the game as St. Henry (4-5) was able to turn a couple free passes into runs because of timely hitting. Derek Rindler and Chase Kessen walked to lead off the game and both scored on a double to left-centerfield by Devin Froning. Marion's starting pitcher Reggie Wendel later uncorked a wild pitch that scored Froning and the Redskins charged in front to an early 3-0 advantage.
The Redskins began the second inning the same way they did in the first, as Darin Schwieterman advanced to first on a walk. Rindler then drove a fastball into the right-centerfield gap for an RBI triple, and Brian Kremer followed with a perfect squeeze bunt to score Rindler.
St. Henry's five-run cushion proved to be more than sufficient for starting pitcher Alex Post, who was in control all game long. The junior didn't allow a hit until the fourth inning and the only time he got into trouble, he was able to come to his own rescue.
Troy Homan got the Flyers (4-5) started in the fifth inning with a single and advanced to second on a wild pitch, and when the throw to second scooted into the outfield, Homan tried for third but was cut down by a perfect toss from Rindler in centerfield. Austin Albers later laced a two-out triple, but Post stranded him there by punching out Dylan Thobe to end the inning.
"We didn't hit the ball real well today but we took advantage of what was given to us," said St. Henry's coach John Dorner. "We had timely hitting, we were able to draw some walks and we took advantage of some errors. When your pitchers are throwing strikes and your defense is playing error-free ball you give yourself a chance to win even if you don't crush the ball and that's exactly what we did today."
As for the Flyers, they didn't give themselves much of a shot, as they committed three errors and allowed seven walks, four of which came around to score.
"We had no chance," said Marion's coach Bryan Gray. "Five-plus walks, two hit batters, and three errors isn't going to get it done. This was such a letdown because we had such a good win against a really good pitcher (in the semifinal), and then to come out against our rivals on their field and just pretty much lay over like we did, I don't have any words for that."
Some of the Flyers' miscues came as a result of aggressive play-making by the Redskins.
"We've always had the philosophy that we want to make them execute," said Dorner. "We were able to get a squeeze bunt down today and we went to third on a groundout and then scored when they threw it over. It was just good solid team baseball today."

Semifinals
Marion Local 3, Sidney Lehman 1
Marion was held in check for six innings by Lehman's ace Alex Smith, who registered 13 strikeouts in limiting the Flyers to just a single run over the first six innings.
Fortunately for Marion, their starter was up to the task as well.
Craig Niekamp's numbers weren't as gaudy as Smith's, but the senior held the Cavaliers to just one run on two hits while striking out five to keep the Flyers in the game.
With the score knotted at one-apiece, the Flyers finally broke through in the top of the seventh. After his team managed just three bunt singles over the first six innings, Lee Pierron slapped a single down the rightfield line that scored Austin Albers with the tie-breaking run. Reggie Wendel later scored on a wild pitch to give the Flyers some insurance, and Niekamp slammed the door in the bottom of the seventh.
St. Henry 1, Anna 0
Derek Rindler scored when Brian Kremer reached on a single to provide Kent Stammen the only run he would need in throwing a two-hit shutout over the Rockets. Stammen walked four and struck out four to get the win and snap a two-game losing streak.
Anna's starter Josh Robinson took the hard-luck loss, scattering five hits and two walks over seven innings, striking out five along the way.
Rindler was 3-for-4 with a double.