Saturday, April 14th, 2012
Minster's Niemeyer throws shutout
By Mark Ruschau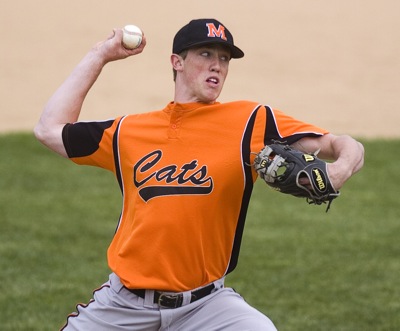 MINSTER - The Minster Wildcats rode the right arm of Adam Niemeyer for a 1-0 win over New Bremen in Midwest Athletic Conference action on Friday night at Hanover Street Park.
Niemeyer surrendered just three hits in pitching the complete-game shutout with just one walk and 14 strikeouts.
"Adam threw the ball very well tonight," said Minster's coach Mike Wiss. "The key tonight was that he was able to control the bottom of their order and a lot of times it's those 7-8-9 guys that hurt you the most in close games like this."
Minster improves to 10-2 overall and 1-1 in the MAC while New Bremen falls to 5-6 (1-1 MAC).
New Bremen's starting pitcher Aaron Clune was nearly as impressive as Niemeyer in the tough-luck loss as he allowed just four hits and one run in a complete-game effort while striking out four.
"I was really proud of the way Aaron Clune pitched tonight," said New Bremen's coach Greg Cox. "We faced one of the better pitchers in the state of Ohio tonight in Adam Niemeyer, but we were able to put the ball in play. We had chances but we were unable to come up with the big hit when we needed it."
While Minster's offense struggled with Clune, but the Wildcats were able to break through with the lone run of the game in the third inning. Minster's number-nine hitter Drew Elson drew a walk and went to second on a passed ball before advancing to third on a sacrifice by Jay Eilerman. Elson scored on an RBI double by Devon Poeppelman.
"Aaron Clune is a little unorthodox in the way he pitches in that he does not bend his elbow and he does not throw the ball by you. I told our guys that we had to be disciplined at the plate - front foot down and back shoulder up," said Wiss.
While Niemeyer was able to put up impressive numbers, he also had to work out of some jams as New Bremen had the tying run at second base three times with just one out.
In the fourth, Clune led off with a single and was sacrificed to second but Niemeyer struck out David Zirkle and Brent Bertke to end the inning. In the fifth, Doug Kremer singled and was sacrificed to second by Cody Wendel was but was left stranded as Ethan Elshoff and Aaron McCollum struck out to end the Cardinals' threat.
In the seventh, Niemeyer hit Zirkle with the first pitch of the inning. After Bertke went down swinging, Doug Kremer singled. After Wendel struck out, with Elshoff at the plate, Niemeyer ended the game as picked Zirkle off second base.
New Bremen is back in play today as it travels to Van Wert for a doubleheader while Minster will travel to Fifth-Third Field in Dayton on Sunday to take on the Bradford Railroaders.