Friday, April 20th, 2012
Cavaliers edge Roughriders in offensive slugfest
By Gary R. Rasberry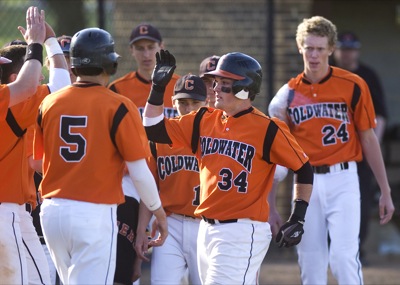 COLDWATER - Despite making six errors and spotting St. Marys seven runs to start the game, the Coldwater Cavaliers rallied back to win 18-16 on Thursday afternoon in a baseball game at Veterans Field.
The two teams hold matching 10-5 records as the Cavaliers win their third straight while St. Marys sees its four-game winning streak snapped.
"Down seven (runs), down 10-3 (after 2 1/2 innings), we were able to battle back and get some runs and play enough defense," said Harlamert.
The Roughriders' offense went to work right from the get-go as D.J. Manning led off with a triple before Nick Vogel's one-out triple to center plated the first run. The first of six Cavaliers' errors brought in the second run before Tyler Roby added a two-run single and later scored on a wild pitch.
The teams traded runs in the second inning and St. Marys led 10-3 before the Cavaliers roughed up Roby on the mound in the third frame. Four straight Coldwater baserunners reach base safely by hit, walk or getting hit by a pitch as Roby was replaced on the hill by Codie Deaton. The Cavaliers welcomed Deaton with a two-run single by Randal Muhlenkamp before Drew Klosterman's three-run homer to left capped a nine-run inning to put the Cavaliers up 12-10.
Coldwater's Matt Selhorst, who came in to pitch in relief of Brandon Wolters in the third, pitched a scoreless fourth but surrendered an RBI double to Steven Paulus and an RBI single to Jarrett Taylor in the fifth to tie things up at 12-all.
But the Cavaliers capped off their offense with a six-run fifth inning off of St. Marys' Auston James, the third Roughriders' pitcher of the game. Jordan Klosterman came off the bench for the Cavaliers to provide a three-run home run to cap off the inning.
St. Marys made things interesting with four runs in the top of the seventh as the Cavaliers committed three errors before Selhorst got Nick Vogel to pop out to end the game.
"Our defense let us down a little bit and (St. Marys) hit the ball well," said Harlamert, noting the 18-10 advantage on hits by the Roughriders. "Both teams could hit on a Thursday non-league game. You've got to outhit them once in awhile."
"Let's just put it where it lays, our pitching let us down," said St. Marys' skipper Dave Huber. "We've got to improve our pitching. No other way around it.
"We had great offense, clearly. Score 16 runs, you sure as hell should win. Bottom line is, we jumped on them, our offense kept going. ... We did well fielding the ball (no St. Marys errors), but if we're going to be a championship team, we're going to have to find some pitching. That's all there is to it."
Drew Klosterman and Matt Kramer were the only Cavaliers with multi-hit games as Drew Klosterman went 2-for-5 with four RBI and Kramer was 2-for-4 with two RBI.
Manning missed the cycle by a home run in going 4-for-6 with four runs scored. Paulus was 3-for-5 as Luke Leffel, Michael Huber, Kalobb Dodson and Roby joined Paulus in driving in two runs.
Both teams are back in league play tonight. Coldwater travels to Versailles while St. Marys makes the short trek to Celina.