Friday, April 27th, 2012
Cavs blow big lead before winning
By Robb Hemmelgarn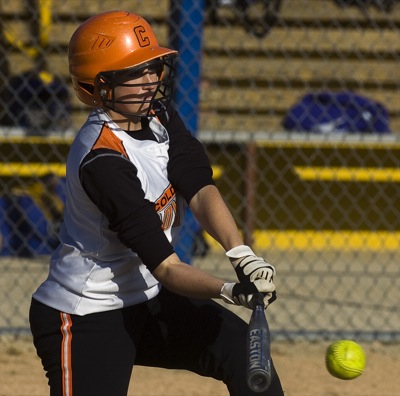 ST. MARYS - Coldwater's softball team built a 9-1 lead early in the game against St. Marys, but the Cavaliers needed to score a run in the top of the seventh inning to break a 10-10 tie for a 11-10 victory on Thursday at K.C. Geiger Park.
"It is nice to leave here with a win tonight," said Coldwater's head coach Ken Fisher. "St. Marys is a hard-battling team and we knew we would be in for a fight, even when we were up by quite a few runs. I told the girls that we needed to keep going at them, because they are very capable of coming back. I am happy with how the girls responded in the end tonight. They threw a lot at us and we didn't falter."
The Cavaliers' offense took advantage of six St. Marys' errors in the opening three innings and built a commanding 9-1 lead.
The Roughriders managed a run in their half of the first frame when Kiley Schamp led off with a triple and eventually scored, but by the time St. Marys came to the plate in the bottom of the third, the outlook was bleak. Schamp got things going though with a one-out single, before Katlyn Brown reached base on a Coldwater error. Senior Harle Smith plated Schamp with a double, and both she and Brown scored a few moments later when Paige Dicus cleared the bases with a single.
With the momentum tilting in her team's favor, Roughriders' head coach Sue Grothause instituted a mass shake-up in her defense and the adjustments seemingly paid dividends, holding the Cavaliers scoreless in the top of the fourth.
The home team continued their head of steam in their half of the fourth when Tannar Rutschilling and Carly Carnes led off with a walk and a single. Pitcher Mallory Kill helped her cause a couple of minutes later with a three-run home run that cleared the leftfield fence to pull her team to within two at 9-7. Kaitlyn Brown reached on a single and later scored before the inning concluded with Coldwater clinging to a one-run lead.
"When they made the changes defensively, I thought that was a good move on Sue's part," Fisher praised. "We didn't hit as well after that, but we managed to get enough to get the job done."
Coldwater's Janel Hosbach drew a walk with one out in the fifth and later scored when senior Kiya Dues slipped one past the shortstop into the shallow leftfield.
St. Marys had no answer in the fifth but rallied a little more in the bottom of the sixth. Brown led off by drawing a walk and then Smith drove in her third run of the game when she connected for a double. Smith then scored a couple of batters later when Dicus belted an RBI single.
With the score tied at 10-10, Coldwater's Brittany Gillis started the seventh by reaching on St. Marys' eighth error of the evening. Junior Kayla Meyer was inserted to pinch run and later scored when Hosbach batted into an RBI fielder's choice.
The Roughriders had a chance to win it in their last at-bat in the seventh, and despite getting runners to second and third base, they failed to score.
"There really isn't a whole lot I can say other than that the girls didn't quit tonight," reasoned Grothause. "We had a lot of decent hits tonight, but we just made too many mistakes on defense. We have had five or six games this season where we lost by only a run or two, so it is a matter of getting over that hump. I am very proud that we battled back tonight. We just need to learn not to put ourselves in that position.